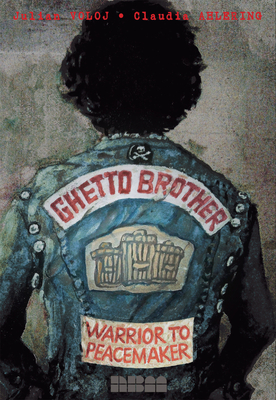 Ghetto Brother
Warrior to Peacemaker (Biographies)
Paperback

* Individual store prices may vary.
Description
Winner of:
2016 In the Margins Book Award
2016 Booklist's Top 10 Graphic Novels
2017 Maverick Graphic Novel List

An engrossing and counter view of one of the most dangerous elements of American urban history, this graphic novel tells the true story of Benjy Melendez, a Bronx legend, son of Puerto-Rican immigrants, who founded, at the end of the 1960s, the notorious Ghetto Brothers gang. From the seemingly bombed-out ravages of his neighborhood, wracked by drugs, poverty, and violence, he managed to extract an incredibly positive energy from this riot ridden era: his multiracial gang promoted peace rather than violence. After initiating a gang truce, the Ghetto Brothers held weekly concerts on the streets or in abandoned buildings, which fostered the emergence of hip-hop. Melendez also began to reclaim his Jewish roots after learning about his family's dramatic crypto-Jewish background. 
Praise For Ghetto Brother: Warrior to Peacemaker (Biographies)…
"There's no doubt that the Ghetto Brothers are an influence in NYC's urban history. They paved the way for many who were searching for a sense of identity, a voice and social justice." —Jorge "Popmaster Fabel" Pabon, breakdance pioneer, Rock Steady Crew

"The gang truce back in the early seventies with Brother Benjy, with the Ghetto Brothers, Black Spades, the Savage Skulls, the Savage Nomads, Seven Immortals, the Reapers, Turbans, with all the major street organizations, was powerful. It was the time to put down the weapons against each other and try to organize. . . .  It was deep. It was powerful. . . . We were all in the same game." —Afrika Bambaataa, hip hop pioneer, participant in the 1971 Truce Summit

"The story of the Ghetto Brothers is the story of the Bronx in the 1970s. . . . The Ghetto Brothers are still considered legendary by those who know." —Jeff Chang, author, Can't Stop Won't Stop: A History of the Hip Hop Generation

"The Ghetto Brothers. . . . was a street family for a lot of young people that didn't have a real family. It stood for peace, if at all possible, and walked that talk by 'going not to war, but to peace' when the GB's Minister of Peace was murdered while trying to stop a street fight between gangs that were going to make war on each other." —Bill Leicht, president, Urban Visions, Inc., former member of the Ghetto Brothers

"Benjy Melendez'. . . . position of peace and reconciliation took great strength of character and was surely responsible for saving many young lives. . . .  Like Afrika Bambaataa, leader of the Black Spades who founded Zulu Nation on principals of peace, using the community building elements of making music, Benjy worked for social justice as a youth, formed a band with his brothers, called 'The Ghetto Brothers' and dedicated himself to working with kids as a martial artist, teacher and counselor, as his life's work." —Henry Chalfant, director, Style Wars and Flyin' Cut Sleeves

"A fine documentary graphic novel of cultural and personal change for the better." —Ray Olson, Booklist

"A fascinating, largely unknown story that's told in a compelling, unexpected way." —Victor Wishna, jta.org

"Rendered in frenetic, splotchy blacks and whites against stark NYC cityscapes, Ghetto Brother is absorbing—a true testament to the power of faith in goodwill." —Zachary Solomon, thejewniverse.com

"Vivid, illuminating. A worthy addition to the canon, Ghetto Brother is a brisk, compact work highlighting an overlooked, yet pivotal, part of the history of both a genre and a city." —Jason Newman, Rolling Stone

"A coming-of-age story that will expand graphic novel collections with its incorporation of the historical oppression, community empowerment, and identities of marginalized communities in 1970s New York City." —Sujei Lugo, Library Journal
NBM ComicsLit, 9781561639489, 128pp.
Publication Date: May 1, 2015
About the Author
Julian Voloj is a photographer and writer who explores aspects of identity and cultural heritage through his work. He lives in New York City. Claudia Ahlering is a painter and illustrator. She is the founder of the magazine Spring.
or
Not Currently Available for Direct Purchase