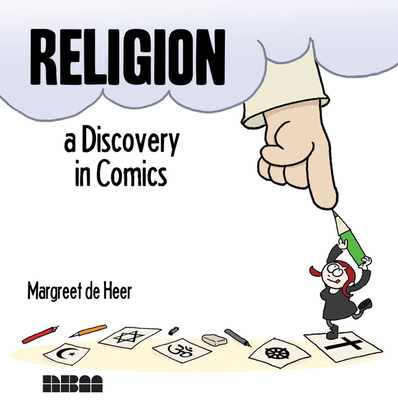 Religion (Hardcover)
A Discovery in Comics
NBM Publishing, 9781561639946, 120pp.
Publication Date: October 1, 2015
* Individual store prices may vary.
Description
A humorous yet substantive introduction to the world's religions and their concepts
 
Explaining the five major religions and modern spirituality in clear, colorful chapters, this illustrated primer is a great way to introduce a complex topic. In her easily accessible style, Margreet de Heer explores religious history and practices in an unbiased way and with a dash of humor, and makes it approachable for those with little knowledge of the subject. It offers a fresh look from different perspectives on the phenomenon of religion; the backgrounds and history of Judaism, Christianity, Islam, Hinduism, and Buddhism; and makes the point that religion is something that should unite us, not drive us apart.
About the Author
Margreet de Heer is a comic artist who collaborated on the online Comiclopedia on www.lambiek.net. Her work has been published in a wide range of Dutch newspapers and magazines. She is the author of "Philosophy: A Discovery in Comics," "Science: A Discovery in Comics," and a comic book about religion in her native Dutch."
Praise For Religion: A Discovery in Comics…
"Lively, intelligent survey of the world's major religions. Wonderful; a beautiful little book, with clever design, witty cartooning, and splendid use of color." —Publishers Weekly
"A tidy introduction to beginning students of religious studies." —Ray Olson, Booklist
"4 out 5 stars. Refreshing in honesty and openness." —Gretchen Wagner, San Francisco Book Review