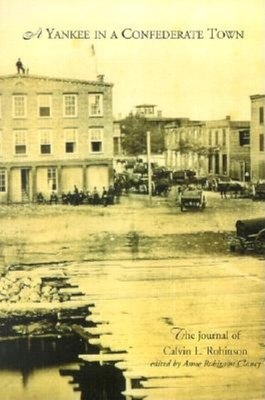 A Yankee in a Confederate Town (Hardcover)
A Journal of Calvin L. Robinson
Pineapple Press, 9781561642670, 137pp.
Publication Date: September 1, 2002
* Individual store prices may vary.
Description
During the Civil War, Calvin L. Robinson was a successful businessman in Jacksonville, Florida, transplanted from his native state of Vermont. Loyal to the Union and finding slave-holding repugnant, he refused to join the secessionist movement in the South. Targeted for his open sympathies for the Union, he would eventually lose his sawmills, his warehouse, his cash, and even his home. In this journal, which he kept during that critical period of U.S. history, he describes the reign of terror in Jacksonville and Fernandina in the years from 1860 to 1864. He met secretly with other Unionists and even helped train a fighting unit. When the Union gunboats that promised safety failed to appear in time, he and his family fled a burning Jacksonville. Contrary to the prevailing opinions of historians, it was not the invading Union forces that burned the city but fellow Southerners who were out to kill Union sympathizers. After finding their way to New York City and then back to Vermont, the Robinson family was homeless for three years. Upon their return to Jacksonville, Calvin reestablished himself in the business community. After the war, he became successful again, finding time to devote to philanthropic activities including founding an orphanage for black children.
or
Not Currently Available for Direct Purchase