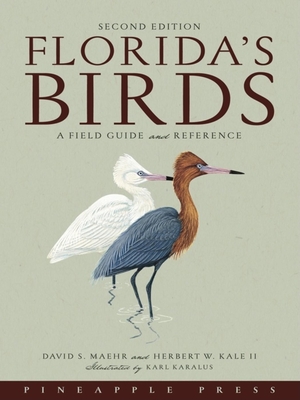 Florida's Birds (Paperback)
A Field Guide and Reference
Pineapple Press, 9781561643356, 359pp.
Publication Date: November 1, 2005
* Individual store prices may vary.
Description
This illustrated guide to Florida's birds includes full-color illustrations and detailed descriptions of each species, and covers such topics as exotic and endangered species; bird conservation and study; finding, attracting, and feeding birds, bird problems, and the care of sick and injured birds.
About the Author
Dr. David S. Maehr was Professor of Wildlife and Conservation Biology at the University of Kentucky, Department of Forestry. A gifted naturalist, David's numerous contributions to the wildlife profession and conservation community have been widely recognized at the international, national, and local levels. He earned three degrees in wildlife studies including a B.S. from The Ohio State University (1977), and both his M.S. (1980) and Ph.D. (1996) from the University of Florida. From 1980-1985, he worked as a biological scientist for the Florida Game and Fresh Water Fish Commission. From 1985-1994 he directed pioneering field studies on the endangered Florida panther and other large mammals for the same wildlife agency. In addition to his many academic accomplishments, David was also an illiustrator and an award winning author of three books, including Florida's Birds, The Florida Panther: Life and Death of a Vanishing Carnivore, and Large Mammal Restoration: Ecological and Sociological Challenges in the 21st Century. A love of birds, a broad engagement with their biology, and a passion for their conservation were hallmarks of Herb Kale's many contributions to ornithology. He received his bachelor's degree from Rutgers University and his doctorate from the University of Georgia. His passion for conservation made him a stalwart of bird protection in Florida for three decades. He was staff ornithologist and vice-president for ornithology at the Florida Audubon Society (FAS). He was a founding member and president (1975-1977) of the Florida Ornithological Society (FOS). He was a founder, supporter, and long-term officer in the Colonial Waterbird Society. As editor of Colonial Waterbirds (1980-84), he guided its development from a proceedings to a refereed journal. He also served the Colonial Waterbird Society on numerous committee assignments, as a member of Council (1977-70, 1991-95), vice-president (1988-89), and president (1990-91). He was a member, since the 1950s, of the Cooper Ornithological Society and the Wilson Ornithological Society and representative of the Colonial Waterbird Society and the Florida Audubon Society to the United States section of the International Council for Bird Preservation.