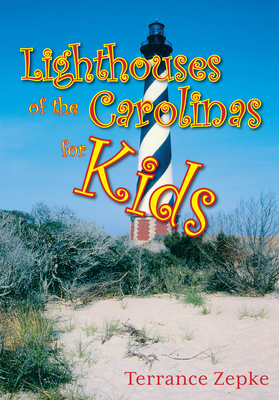 Lighthouses of the Carolinas for Kids (Paperback)
Pineapple Press, 9781561644292, 64pp.
Publication Date: November 1, 2009
* Individual store prices may vary.
Description
A lively text, rich in pictures, tells the history and lore of the lighthouses along the Carolina shores--from Currituck Lighthouse at the top of North Carolina to the Haig Point Lighthouses at the bottom of South Carolina. Learn about the people who designed and built them. Meet some of the keepers who braved storms and suffered loneliness while tending their beacons. Learn how lighthouses operated in the early days and how they operate now.
What lighthouse is the farthest north in North Carolina?
Is the Bodie Island Lighthouse on an island?
What's a shoal and why is it dangerous for ships?
What pirate used to hide out on Ocracoke Island?
Which South Carolina lighthouse is called "The Leaning Lighthouse"?
What lighthouse was the last one built in South Carolina?
What North Carolina lighthouse is the tallest lighthouse in America?
Which lighthouse was moved 1600 feet inland?
Which lighthouse was designed like a puzzle--in pieces, so that it could be taken apart and put back together?
Where was the very first lighthouse in the world?
Where was the very first lighthouse in America?
What is a "Texas tower"?
How many lighthouses are on the Outer Banks?
How many steps do you have to climb to get to the top of the Cape Lookout Lighthouse?
How do range lights show boat captains how to enter a channel?
Lighthouses of the Carolina for Kids answers these questions and many more.