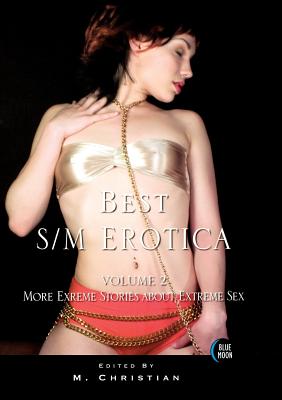 Best S/M Erotica, Volume 2 (Paperback)
More Extreme Stories About, Extreme Sex
Running Press Adult, 9781562015091, 231pp.
Publication Date: April 3, 2006
Description
Following up on the overwhelming success of the first volume comes this second, containing more tales of extreme sex. Sex on the edge is the theme of this unique collection that goes way beyond silk and satin, candlelight and lingerie. There is leather in these stories--and also latex, chains, paddles, whips, and more. If you thought the first book was hot, wild, and kinky, then be prepared to be delightfully shocked as Volume 2 goes even more over the top. Featuring contributions from some of the best erotica writers in the world--plus stories from brand new authors--here you will savor such diverse delights as "Her Master's Voice," "Never Say Never," "Dancing for Daddy," "Her Favorite Ride," and 22 more. Sit back and take pleasure as authors like M. Christian (who also edited the collection), Patrick Califia, Lisabet Sarai, Sage Vivant, and Simon Sheppard stretch the limits of your erotic imagination. You won't believe the sensual surprises that lie ahead. From fetish and master/slave to body mortification and bondage, it's all here and waiting for your enjoyment . . .
About the Author
M. Christian is the author of the critically acclaimed and best-selling collections Dirty Words, Speaking Parts, and The Bachelor Machine. He is the editor of The Burning Pen, Guilty Pleasures, the Best S&M Erotica series, The Mammoth Book of Future Cops and The Mammoth Book of Tales of the Road (with Maxim Jakubowski) and many other anthologies. His short fiction has appeared in more than 200 books, including Best American Erotica, Best Gay Erotica, Best Lesbian Erotica, Best Transgendered Erotica, Best Fetish Erotica, and Best Bondage Erotica. He lives in San Francisco.
Advertisement