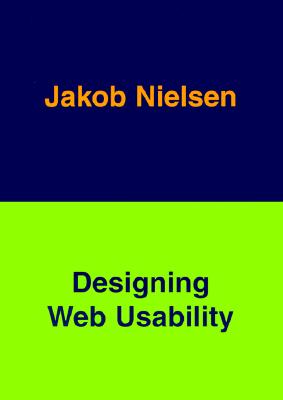 Designing Web Usability (Paperback)
New Riders Publishing, 9781562058104, 432pp.
Publication Date: December 30, 1999
* Individual store prices may vary.
Description
Users experience the usability of a web site before they have committed to using it and before making any purchase decisions. The web is the ultimate environment for empowerment, and he or she who clicks the mouse decides everything. "Designing Web Usability" is the definitive guide to usability from Jakob Nielsen, the world's leading authority. Over 250,000 Internet professionals around the world have turned to this landmark book, in which Nielsen shares the full weight of his wisdom and experience. From content and page design to designing for ease of navigation and users with disabilities, he delivers complete direction on how to connect with any web user, in any situation. Nielsen has arrived at a series of principles that work in support of his findings: 1. That web users want to find what they're after quickly; 2. If they don't know what they're after, they nevertheless want to browse quickly and access information they come across in a logical manner. This book is a must-have for anyone who thinks seriously about the web.
About the Author
Jakob Nielsen, Ph.D. is a User Advocate specializing in web usability and a principal of Nielsen Norman Group (http: //www.nngroup. com), which he co-founded with Dr. Donald A. Norman, former vice president of Apple Research. Until 1998, Dr. Nielsen was a Sun Microsystems Distinguished Engineer and led that company's web usability efforts starting with the original design of SunWeb in early 1994. His previous affiliations include the IBM User Interface Institute, Bell Communications Research, and the Technical University of Denmark. Nielsen is the author and editor of 8 other books and more than 75 research papers on usability engineering, user interface design, and hypertext. He is also a frequent keynote presenter at industry conferences. Nielsen is the founder of the "discount usability engineering" movement for fast and simple ways of improving user interfaces. Nielsen's Alertbox column about web usability has been published on the Internet since 1995 (http: //www.useit.com/alertbox) and currently has about 100,000 readers. He is also the usability columnist for Ziff-Davis Network's DevHead and a web design critic for Internet World magazine. He holds 46 U.S. patents, mainly on ways to make the Internet easier to use. Dr. Nielsen's website is at http: //www.useit.com: It's text-only and pretty fast.
or
Not Currently Available for Direct Purchase