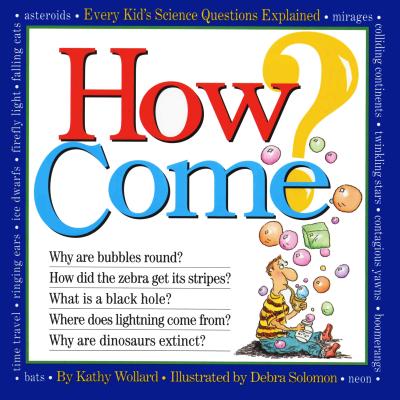 How Come?
Paperback

* Individual store prices may vary.
Other Editions of This Title:
Paperback (12/30/2014)
Description
For every kid who really wants to know—and for every exasperated parent who simply doesn't know—here is a lively omnium-gatherum of explanations to the most frequently asked questions about our world, from "Why do stars twinkle?" to "What are hiccups? "Taken from Kathy Wollard's popular column, "How Come?" (seen for the past six years in Newsday and recently syndicated nationally through the Los Angeles Times), How Come? explains why cats can survive high falls (because of the way their bodies can act like a "parachute") and how black holes absorb light (intense gravity—if the Earth had the same density as a black hole, it would have to be compressed to the size of a marble!). Now you can know it all.
Workman Publishing Company, 9781563053245, 320pp.
Publication Date: January 12, 1993
About the Author
Kathy Wollard is a science journalist and the author of the bestselling How Come? Every Kid's Science Questions Explained. Her work has appeared in Newsday, Scholastic, Popular Science, and Family Fun magazines. She lives in rural Ohio.
Debra Solomon is an illustrator and animator whose short films have won awards at film festivals around the world. She created the animated Lizzie McGuire character for the hit Disney show. She also wrote the award-winning kids' books Oh Brother! and Oh Sister!, and co-authored A Good Friend and 101 Uses for an Ex-Husband. Ms. Solomon lives in New York City.
or
Not Currently Available for Direct Purchase