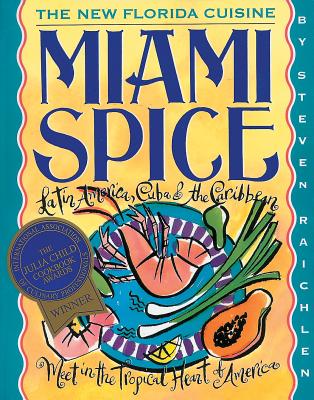 Miami Spice
The New Florida Cuisine (Steven Raichlen Barbecue Bible Cookbooks)
Paperback

* Individual store prices may vary.
Description
The new star of the culinary galaxy is South Florida, declares The New York Times. And no wonder. Out of America's tropical melting pot comes an inventive cuisine bursting with flavor--and now Steven Raichlen, an award-winning food writer, shares the best of it in Miami Spice. With 200 recipes and firsthand reports from around the state, Miami Spice captures the irresistible convergence of Latin, Caribbean, and Cuban influences with Florida's cornucopia of stone crabs, snapper, plantains, star fruit, and other exotic native ingredients (most of which can be found today in supermarkets around the country).

Main selection of the Book-of-the-Month Club's HomeStyle Books. Winner of a 1993 IACP/Julia Child Cookbook Award.
Workman Publishing Company, 9781563053467, 352pp.
Publication Date: January 11, 1993
About the Author
Steven Raichlen is the author of the New York Times bestselling Barbecue! Bible® cookbook series, which includes the new Brisket Chronicles; Project Fire; Barbecue Sauces, Rubs, and Marinades; Project Smoke; The Barbecue Bible; and How to Grill. Winners of 5 James Beard awards and 3 IACP awards, his books have been translated into 17 languages. His TV shows include the public television series Steven Raichlen's Project Fire, Project Smoke; Primal Grill; and Barbecue University; the French language series Le Maitre du Grill, and the Italian series Steven Raichlen Grills Italy. Raichlen has written for the New York Times, Esquire, and all the food magazines; and is the founder and dean of Barbecue University. In 2015, he was inducted into the Barbecue Hall of Fame. His website is www.barbecuebible.com.