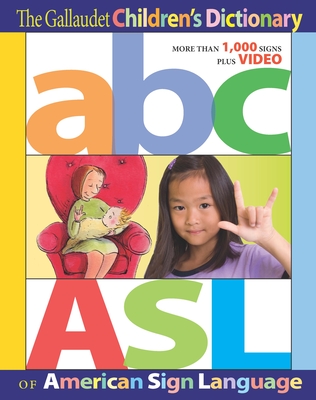 The Gallaudet Children's Dictionary of American Sign Language (Mixed media product)
Gallaudet University Press, 9781563686313, 384pp.
Publication Date: October 31, 2014
* Individual store prices may vary.
Description
* Featuring more than 1,000 ASL sign drawings
* All signs paired with charming color illustrations
* Introduction explains how to sign ASL and fingerspell
* Complete index of English terms for each sign, including synonyms
* Sample sentences using specific words to match every sign's meaning

The Gallaudet Children's Dictionary of American Sign Language presents more than 1,000 ASL sign drawings arranged alphabetically by English terms, plus delightful color illustrations for each sign. Also featuring English sentences for each sign, the Gallaudet Children's Dictionary stands alone as the best, most entertaining ASL reference volume for deaf and hearing children alike.

     The Gallaudet Children's Dictionary is a bilingual dictionary that serves a twofold purpose—to increase and improve deaf children's English vocabulary skills and to teach American Sign Language to hearing children. Research indicates that all children benefit from knowing more than one language, and they acquire the second language relatively quickly when they start learning it before the age of twelve. This dictionary will help deaf children make the connections between the signs they already know and the written English words that express the same concept. As a result, their reading vocabulary will grow, and they will gain an understanding of how English words can have different meanings. Hearing children will learn a new language and a new way to communicate.

     The introduction explains the history and culture of American Sign Language as well as how to sign and fingerspell. The accompanying DVD displays native ASL signers demonstrating how to form each sign plus 150 ASL sentences. For easier retention, signs can be watched in full speed or slow motion. The index listing all of the English vocabulary for each sign completes The Gallaudet Children's Dictionary of American Sign Language as the new standard ASL reference for children, their parents, and their teachers.
About the Author
The Editors of Gallaudet University Press have produced more than 60 titles and DVDs on signed languages during the past 34 years at Gallaudet University in Washington, DC. Jean M. Gordon is an ASL Diagnostician, ASL Diagnostic and Evaluation Services (ASL-DES), Gallaudet University, Washington, DC.
Praise For The Gallaudet Children's Dictionary of American Sign Language…
School Library Journal Starred Review

Gordon, Jean M., ed. The Gallaudet Children's Dictionary of American Sign Language. illus. by Debbie Tilley. 384p. diag. index. w/DVD. Gallaudet Univ. 2014. Tr$39.95. ISBN 9781563686313.
K-Gr 4–This long-anticipated and colorfully designed reference work is the first comprehensive American Sign Language dictionary for children published to date. It boasts more than 1,000 signs and includes a searchable DVD, which features young native signers demonstrating each sign and 150 of the practice sentences. Each entry takes up a third of a page and includes the word in bold red. Arranged alphabetically, the words are searchable with a thumb guide and represent a combination of sight words, familiar words, and words relating to animals, major holidays, sports, and school. An important aspect for both Deaf and hearing students are the synonyms listed directly underneath many entries. Since one sign stands for a variety of synonyms, this will help learners develop vocabulary. For example, under the term fake, readers will find the words imposter, pseudo, artificial, and counterfeit. A watercolor illustration humorously depicts the word and is accompanied by a corresponding sentence. The signs are clearly illustrated in black-and-white line drawings of children. The hands and forearms are in bold, resulting in a very clear picture of how to form the sign. Tips about ASL and Deaf culture and etiquette take the place of a word now and then in "Now You Know" boxes. The comprehensive introduction relays important information about ASL, including regional differences, and explains the arrows used to depict the motions of the signs. Highly recommended.–Sara Lissa Paulson, The American Sign Language and English Lower School, New York City


 
This new American Sign Language (ASL) dictionary for children is published by Gallaudet University, one of the leading universities for deaf and hard-of-hearing students. Aimed at emerging readers, this dictionary uses cute color illustrations for the signs and easy-to-read definitions for more than 1,000 words. What sets this dictionary apart from other books on ASL for children is the accompanying DVD, which shows children signing each of the words in the dictionary. Some of the words are also included in sentences, which are signed by adults. Watching the words being signed by someone will likely help those who might be confused by the directional arrows in the illustrations. The DVD, which is easily navigable on a variety of devices, shows a multicultural, diverse group of individuals, emphasizing that anyone could be deaf. This dictionary will help deaf children broaden their vocabulary, as well as teach hearing children how to sign. 
— Kat Kan
This outstanding title deserves a place on the shelf of every school and public library. Designed for use by children ages 5 and up, this title will facilitate sign language learning for deaf and hearing children and adults. The entries are arranged alphabetically by English words and colorful, entertaining illustrations accompany each word to demonstrate the concept associated with the word. The signing instructions are done as black and white line drawings with bold lines added to illustrate handshape, movement, location, palm orientation and nonmanual signals. The DVD bound with the dictionary is equally useful since it includes live-action of children signing each word and videos of adults signing 150 sentences.
— 2015 "Best of the Best" University Press Books for Public and Secondary School Libraries, 25th Ed.