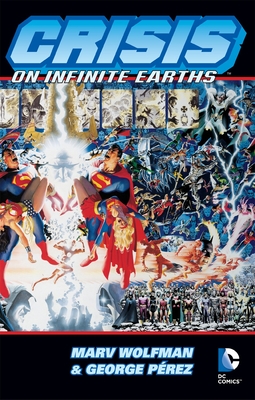 Crisis On Infinite Earths (Paperback)
DC Comics, 9781563897504, 368pp.
Publication Date: January 1, 2001
Other Editions of This Title:
Hardcover (12/1/2006)
* Individual store prices may vary.
Description
This is the story that changed the DC Universe forever. A mysterious being known as the Anti-Monitor has begun a crusade across time to bring about the end of all existence. As alternate earths are systematically destroyed, the Monitor quickly assembles a team of super-heroes from across time and space to battle his counterpart and stop the destruction. DC's greatest heroes including Superman, Batman, Wonder Woman, Green Lantern, and Aquaman, assemble to stop the menace, but as they watch both the Flash and Supergirl die in battle, they begin to wonder if even all of the heroes in the world can stop this destructive force.
About the Author
In a career that has spanned nearly 30 years, Marv Wolfman has helped shape the heroic careers of DC Comics' Green Lantern, Blackhawk, and the original Teen Titans, as well as Marvel Comics' Fantastic Four, Spider-Man, and Nova. In addition to co-creating The New Teen Titans and the universe-shattering Crisis on Infinite Earths with George Pérez, Wolfman was instrumental in the revamp of Superman after Crisis, the development of The New Teen Titans spin-off series Vigilante, Deathstroke the Terminator, and Team Titans, and created such characters as Blade for Marvel, along with Night Force and the retooled Dial "H" For Hero for DC. In addition to his numerous comic book credits, Wolfman has also written several novels and worked in series television and animation, including the Superman cartoon of the late 1980s and currently the hit Teen Titans show on Cartoon Network.

George Pérez started drawing at the age of five and hasn't stopped since. Born on June 9, 1954, Pérez began his professional comics career as an assistant to Rich Buckler in 1973. After establishing himself as a penciller at Marvel Comics, Pérez came to DC in 1980, bringing his highly detailed art style to such titles as Justice League of America and Firestorm. After co-creating The New Teen Titans in 1980, Pérez and writer Marv Wolfman reunited for the landmark miniseries Crisis On Infinite Earths in 1985. In the aftermath of that universe-smashing event, Pérez revitalized Wonder Woman as the series' writer and artist, reestablishing her as one of DC's preeminent characters and bringing in some of the best sales the title has ever experienced. He has since gone on to illustrate celebrated runs on Marvel's The Avengers, CrossGen's Solus, and DC's The Brave and the Bold.
or
Not Currently Available for Direct Purchase