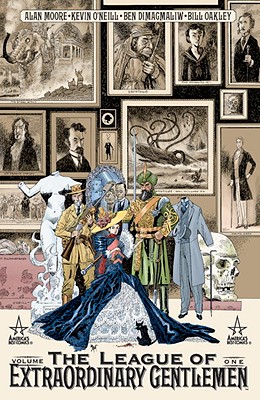 The League of Extraordinary Gentlemen, Vol. 1
Paperback

* Individual store prices may vary.
Other Editions of This Title:
Paperback (12/7/2021)
Hardcover (1/7/2020)
Prebound (10/1/2002)
Paperback (9/1/2004)
Paperback (8/7/2018)
Paperback (5/22/2009)
Hardcover (11/13/2007)
Description
"A sharp-witted gloss on the scientific and sexual obsessions of Victorian society."—TIME"Moore has combined his love of 19th-century adventure literature with an imaginative mastery of its 20th-century corollary, the superhero comic book."—PUBLISHERS WEEKLY"Swashbuckling, wry humor."—SPINLondon, 1898. The Victorian Era draws to a close and the twentieth century approaches. It is a time of great change and an age of stagnation, a period of chaste order and ignoble chaos. It is an era in need of champions.In this amazingly imaginative tale, literary figures from throughout time and various bodies of work are brought together to face any and all threats to Britain. Allan Quatermain, Mina Murray, Captain Nemo, Dr. Henry Jekyll and Edward Hyde and Hawley Griffin, the Invisible Man, form a remarkable legion of intellectual aptitude and physical prowess: The League of Extraordinary Gentlemen.
WildStorm, 9781563898587, 192pp.
Publication Date: October 1, 2002
About the Author
Alan Moore is perhaps the most acclaimed writer in the graphic story medium, having garnered countless awards for works such as Watchmen, V for Vendetta, Swamp Thing and Miracleman. He is also the mastermind behind the America's Best Comics line, through which he has created (along with many talented illustrators) The League of Extraordinary Gentlemen, Promethea, Tom Strong, Tomorrow Stories and Top Ten.