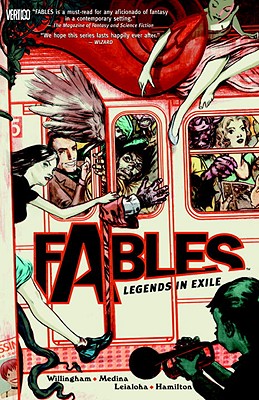 Fables Vol. 1 (Paperback)
Legends in Exile
Vertigo, 9781563899423, 128pp.
Publication Date: December 1, 2002
Other Editions of This Title:
Paperback (5/22/2012)
Hardcover (2/26/2013)
Paperback (4/1/2005)
Paperback (3/5/2008)
Paperback (11/1/2004)
Hardcover (10/7/2014)
* Individual store prices may vary.
Description
When a savage creature known only as the Adversary conquered the fabled lands of legends and fairy tales, all of the infamous inhabitants of folklore were forced into exile. Disguised among the normal citizens of modern-day New York, these magical characters have created their own peaceful and secret society within an exclusive luxury apartment building called Fabletown. But when Snow White's party-girl sister, Rose Red, is apparently murdered, it is up to Fabletown's sheriff, a reformed and pardoned Big Bad Wolf, to determine if the killer is Bluebeard, Rose's ex-lover and notorious wife killer, or Jack, her current live-in boyfriend and former beanstalk-climber.
AWARDS:
YALSA: 2004 annual recommended list of Quick Picks for Reluctant Young Adult Readers
-Willingham, Bill. "Animal Farm" (Fables series). DC Comics: Vertigo.
-Willingham, Bill. "Legends in Exile" (Fables series). DC Comics: Vertigo.
YALSA: 2007 Great Graphic Novels for Teens
-Willingham, Bill, Todd Klein, and others. "Fables: 1001 Nights of Snowfall." 2006. DC Comics/ Vertigo
As of 2008, Fables has won twelve Eisner Awards.
-Best New Series in 2003
-Best Serialized Story in 2003, 2005 and 2006 ("Legends In Exile, March of the Wooden Soldiers "and "Homelands")
-Best Anthology in 2007 ("Fables: 1001 Nights of Snowfall")
-Best Short Story in 2007 ("A Frog's Eye View, " by Bill Willingham and James Jean, in "Fables: 1001 Nights of Snowfall")
Hugo Award Nomination 2009:
-"Fables: War and Pieces" was nominated for the first Hugo Award for Best Graphic Story.
or
Not Currently Available for Direct Purchase