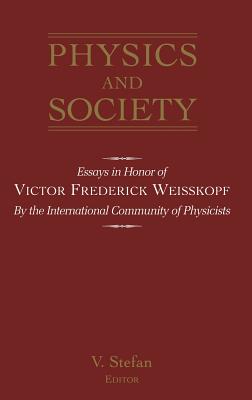 Physics and Society (Hardcover)
Essays in Honor of Victor Frederick Weiseskopf by the International Community of Physicists
American Institute of Physics, 9781563963865, 236pp.
Publication Date: March 24, 1998
* Individual store prices may vary.
Description
This collection of essays by scientists from around the world honors Victor Frederick Weisskopf, one of the true luminaries of twentieth- century physics. Among the many breakthroughs his research has yielded have been the theory of the widths of energy levels of the electron, the "Clouded Crystal Ball" model of nuclear structure, and the "MIT Bag" model of hadronic matter. For his contributions to physics, Dr. Weisskopf has been awarded the Max Planck Medal, the J. Robert Oppenheimer Medal, and most recently, the Karl Taylor Compton Award. The essays in this book, by some of the world's leading physicists, including seven nobel prize winners, address topics ranging from Weisskopf's contributions to theoretical physics to more intimate views of his role as teacher, friend, and humanist. Contributors include: Hans A. Bethe; Hendrick B.G. Casimir; Georges Charpak; Sidney D. Drell; Evgenii L. Feinberg; Herman Feshbach; Jerome I. Friedman and Henry W. Kendall; Murray Gell-Mann; Kurt Gottfried; J. David Jackson; Maurice Jacob; Francis E. Low; Ove Nathan; Norman F. Ramsey; Walter Thirring; and Charles H. Townes. For all his accomplishments, Victor Weisskopf remains a contemplative and unpretentious man. Throughout the world's scientific community he is known simply as Viki. The man and his work are revealed here by the collaborators, colleagues, and friends who know him best.