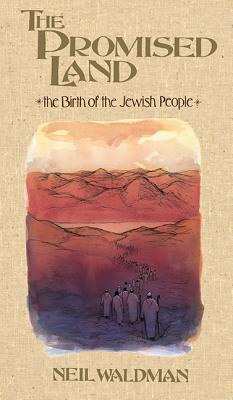 The Promised Land
The Birth of the Jewish People
Hardcover

* Individual store prices may vary.
Description
Long ago in a part of the world once known as Mesopotamia, a nomadic tribesman led his people through the wilderness in search of a mystical land called Canaan. This journey would change the course of human history. Since that time, entire civilizations have flourished and vanished, along with their religions. Only one people has survived the tumult of the centuries--the Jews. What accounts for their remarkable survival? Neil Waldman tells the story of the Jewish people from their arrival in Canaan to the Exodus from Egypt. His paintings capture emotional scenes of Jewish life in the ancient world and in Europe. He shows how generation upon generation of Jews, in the face of profound crisis, have drawn strength from God's promise of a land flowing with milk and honey. The key to the Jewish people's survival is found in the story of their birth.
Boyds Mills Press, 9781563973321, 40pp.
Publication Date: September 1, 2002
About the Author
Neil Waldman's work has won many honors, including the Washington Irving Award, the Award ofMerit from the Society of Illustrators, and the National Jewish Book Award. He also was awarded a Gold Medal from the United Nations for his poster celebrating the International Year of Peace. He lives for two years in Israel and now resides in Greenburgh, New York, with his wife, Kathy."