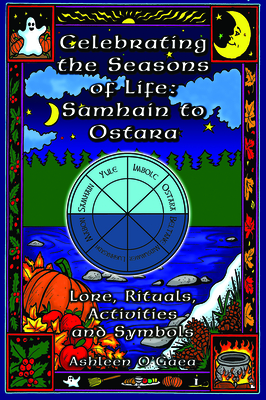 Celebrating the Seasons of Life
Samhain to Ostara
Paperback

* Individual store prices may vary.
Description
Unique among books about the Wiccan Sabbats, Celebrating the Seasons of Life: Samhain to Ostara takes a different approach to explaining the holidays by taking an in-depth look at half of the Wheel of the Year. Rather than dissecting each holiday, Ashleen's goal is to take a broader look at them, explaining how and why we celebrate each, along with how the celebration of one leads to the next.
The first of two new titles from Ashleen offers a vision of the holidays we celebrate from October to March. This book covers each holiday by first giving us its history and original customs, then explaining its place in modern life. Stories are shared for each Sabbat to reconnect us with our lore and bring new meaning to current practice. Ashleen includes ideas for rituals that are ideal for practicing solitaries, covens, or Wiccan families, with special sections on what children of various ages are ready to learn about these holidays.
New Page Books, 9781564147318, 224pp.
Publication Date: April 21, 2009
About the Author
Ashleen O'Gaea has written quite a few novels, ranging from contemporary to fantasy, including a set of stories for children and a chapter book for middle-schoolers. Her non-fiction work ranges from a variety of books about Wicca to one about West Highland White Terriers! And of course I've always got more stories and books in the pipeline. Ashleen is an ordained Wiccan priestess and a member of the Gecko Gals Ink (GeckoGalsInk.blogspot.com) which is a group of five Tucson authors who write in a wide range of genres, meet the public at book events all over town, offer seminars for authors at all levels of expertise and aspiration, and sponsor the All-Zona Book Fest every autumn. She's also on the board of the Mother Earth Ministries-ATC, a Tucson-based Neo-Pagan prison ministry (www.MotherEarthMinistries.org) and the co-founder of the Tucson Area Wiccan-Pagan Network (www.TAWN.org).