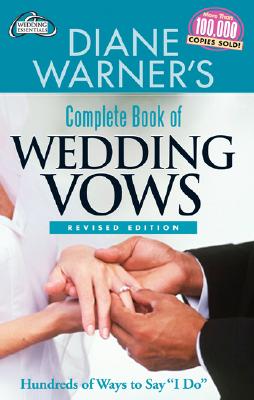 Diane Warner's Complete Book of Wedding Vows, Revised Edition (Paperback)
Hundreds of Ways to Say I Do
New Page Books, 9781564148162, 224pp.
Publication Date: January 15, 2006
* Individual store prices may vary.
Description
Diane Warner's Complete Book of Wedding Vows, Revised Edition is the only book devoted solely to helping you prepare and personalize your vows so they are as unique and special as every other aspect of your wedding. The first Edition has sold more than 100,000 copies. It is one of the largest compilations of vows ever assembled, a practical user-friendly guide that helps couples compose personalized vows from the heart, vows that express their deep feelings of love and commitment to each other. Diane Warner's Complete Book of Wedding Vows includes a wide variety of traditional wedding vows from countries and culture around the world, along with hundreds of personalized, nontraditional vows- those for second marriages, marriages of older couples, ceremonies of reaffirmation and wedding involving children from previous marriages. Vows with religious variations, those inspired by the classics (Elizabeth Barrett Browning, John Keats, Shakespeare and many others), even some devoted exclusively to rings are included. And, for the first time in this new edition: Theme wedding vows (including poignant Hand-Fasting ceremony vows and special vows for a Renaissance wedding) and a number of original vows submitted by Diane's many readers.
About the Author

Diane Warner is the best-selling author of 22 books, including Diane Warner's Contemporary Guide to Wedding Etiquette, Complete Book of Wedding Toasts, Complete Book of Wedding Showers, Complete Book of Baby Showers, Diane Warner's Big Book of Parties and How to Have a Big Wedding on a Small Budget. Diane also writes for magazines, newspapers and Web sites. She is a popular speaker and radio and television guest. She has made over 100 national radio and television appearances and can be seen regularly on HGTV and The Discovery Channel. She lives in Tucson, Arizona with her author-husband, Jack.

Praise For Diane Warner's Complete Book of Wedding Vows, Revised Edition: Hundreds of Ways to Say I Do…
"At last! A book of wedding vows that runs the gamut from traditional to vows inspired by the classics. If you coordinate weddings, or if you are involved in any way with bridal couples, you will find this book to be a great reference tool." --Doris Dixon, VP, National Bridal Service