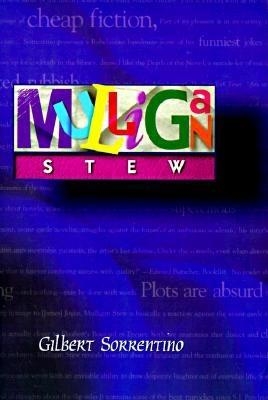 Mulligan Stew (Paperback)
Dalkey Archive Press, 9781564780874, 446pp.
Publication Date: January 1, 1996
Description
Widely regarded as Sorrentino's finest achievement, ?"Mulligan Stew"?takes as its subject the comic possibilities of the modern literary imagination. As avant-garde novelist Antony Lamont struggles to write a "new wave murder mystery," his frustrating emotional and sexual life wreaks havoc on his work-in-progress. As a result, his narrative (the very book we are reading) turns into a literary "stew" an uproariously funny melange of journal entries, erotic poetry, parodies of all kinds, love letters, interviews, and lists--as Hugh Kenner in "Harper's" wrote, "for another such virtuoso of the List you'd have to resurrect Joyce." Soon, Lamont's characters (on loan from F. Scott Fitzgerald, Flann O'Brien, James Joyce, and Dashiell Hammet) take on lives of their own, completely sabotaging his narrative. Sorrentino has vastly extended the possibilities of what a novel can be in this extraordinary work, which both parodies and pays homage to the art of fiction.
About the Author
Gilbert Sorrentino was one of the founders (1956, together with Hubert Selby Jr.) and the editor (1956-1960) of the literary magazine "Neon," the editor for "Kulchur" (1961-1963), and an editor at Grove Press (1965-1970). Selby's?"Last Exit to Brooklyn"?(1964) and?"The Autobiography of Malcolm X"?are among his editorial projects. Later he took up positions at Sarah Lawrence College, Columbia University, the University of Scranton and the New School for Social Research in New York and then was a professor of English at Stanford University (1982-1999). The novelists?Jeffrey Eugenides?and?Nicole Krauss?were among his students, and his son, ?Christopher Sorrentino, is the author of the novels?"Sound on Sound"?and?"Trance."
Advertisement