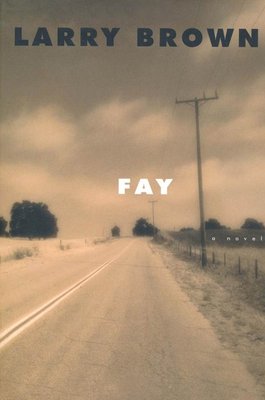 Fay (Hardcover)
A Novel
Algonquin Books, 9781565121683, 504pp.
Publication Date: March 31, 2000
Other Editions of This Title:
Digital Audiobook (2/10/2008)
Paperback (4/1/2001)
Paperback, French (12/1/2008)
* Individual store prices may vary.
Description
"[Larry Brown was] gifted with brilliant descriptive ability, a perfect ear for dialogue, and an unflinching eye . . . stark, often funny . . . with a core as dark as a Delta midnight." —Entertainment Weekly

She's had no education, hardly any shelter, and you can't call what her father's been trying to give her since she grew up "love." So, at the ripe age of seventeen, Fay Jones leaves home.

She lights out alone, wearing her only dress and rotting sneakers, carrying a purse with a half pack of cigarettes and two dollar bills. Even in 1985 Mississippi, two dollars won't go far on the road. She's headed for the bright lights and big times and even she knows she needs help getting there. But help's not hard to come by when you look like Fay.

There's a highway patrolman who gives her a lift, with a detour to his own place. There are truck drivers who pull over to pick her up, no questions asked. There's a crop duster pilot with money for a night or two on the town. And finally there's a strip joint bouncer who deals on the side.

At the end of this suspenseful, compulsively readable novel, there are five dead bodies stacked up in Fay's wake. Fay herself is sighted for the last time in New Orleans. She'll make it, whatever making it means, because Fay's got what it takes: beauty, a certain kind of innocent appeal, and the instinct for survival.

Set mostly in the seedy beach bars, strip joints, and massage parlors of Biloxi, Mississippi, back before the casinos took over, Fay is a novel that only Larry Brown, the reigning king of Grit Lit, could have written. As the New York Times Book Review once put it, he's "a writer absolutely confident of his own voice. He knows how to tell a story."
About the Author
Larry Brown was born in Lafayette County, Mississippi, where he lived all his life. At the age of thirty, a captain in the Oxford Fire Department, he decided to become a writer and worked toward that goal for seven years before publishing his first book, Facing the Music, a collection of stories, in 1988. With the publication of his first novel, Dirty Work, he quit the fire station in order to write full time. (The nonfiction book On Fire tells the story of his many years as a firefighter.) Between then and his untimely death in 2004, he published seven more books. He was awarded the Mississippi Institute of Arts and Letters award for fiction and was the first two-time winner of the Southern Book Award for Fiction, which he won in 1992 for Joe, and again in 1997 for Father and Son. He was the recipient of a Lila Wallace-Readers Digest Award and Mississippi's Governor's Award For Excellence in the Arts. The story "Big Bad Love" became the basis for a feature film, as did his novel Joe. 
or
Not Currently Available for Direct Purchase