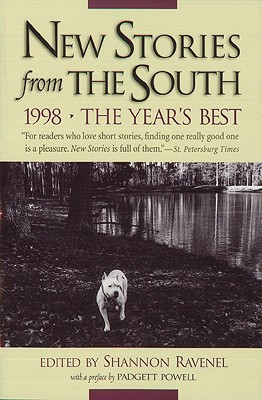 New Stories from the South 1998
The Year's Best
Paperback

* Individual store prices may vary.
Other Editions of This Title:
Paperback (1/10/1993)
Paperback (1/10/1992)
Paperback (8/19/2002)
Paperback (9/14/2001)
Paperback (10/1/1991)
Paperback (1/10/1994)
Paperback (1/5/2004)
Paperback (7/1/2003)
Paperback (9/8/2000)
Paperback (1/9/1996)
Paperback (1/9/1995)
Description
THE ONLY ANNUAL ANTHOLOGY SHOWCASING THE BEST SHORT FICTION WRITTEN IN AND ABOUT THE SOUTH. With a preface by Padgett Powell. The thirteenth edition of NEW STORIES FROM THE SOUTH proves that literature from and about the South continues to evolve. Whether it's a surreal meditation by a man on night watch in contact with everything from space aliens to a charming Southern belle, or how life looks to two stock boys in a grocery store, or the stories hidden within the covert language of an art book, or the intricate jealousies that both cement and divide two couples, this newest collection of nineteen stories is proof positive that the literature of the South refuses to be pigeonholed. This year's contributors include well-established writers such as Mark Richard, Stephen Dixon, and Tim Gautreaux, in addition to original new voices carving out their own niches in ways that bode well for the future of Southern literature. Padgett Powell's preface answers, on its own terms, the question "What Southern Literature Is." And each selection includes the story behind the story, giving readers a window into the mind of the writer. We continue to include an updated list of magazines consulted by the editor, along with a complete list of all the stories selected each year since the inception of the series in 1986. The 1998 edition features the following standout writers: Josh Russell, Wendy Brenner, John Holman, Tim Gautreaux, Mark Richard, Enid Shomer, Sara Powers, Molly Best Tinsley, Frederick Barthelme, Tony Earley, Padgett Powell, Nancy Richard, Michael Gills, George Singleton, Annette Sanford, Stephen Marion, Jennifer Moses, Scott Ely, Stephen Dixon. "Ravenel has shown a canny ability to spot emerging talent . . . and time and again has included stories by writers before their novels widened their fame."--The Anniston Star; "For readers who love short stories, finding one really good one is a pleasure. NEW STORIES is full of them."--St. Petersburg Times.
Algonquin Books, 9781565122192, 299pp.
Publication Date: September 1, 1998
About the Author
Shannon Ravenel has edited New Stories from the South since 1986. Formerly editorial director of Algonquin Books, she now directs her Algonquin imprint, Shannon Ravenel Books. She lives in Chapel Hill, North Carolina.
or
Not Currently Available for Direct Purchase