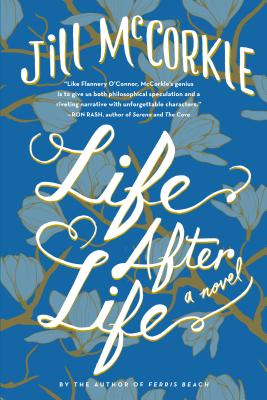 Life After Life (Hardcover)
Shannon Ravenel Books, 9781565122550, 344pp.
Publication Date: March 26, 2013
* Individual store prices may vary.
Description
Award-winning author Jill McCorkle takes us on a splendid journey through time and memory in this, her tenth work of fiction. Life After Life is filled with a sense of wonder at our capacity for self-discovery at any age. And the residents, staff, and neighbors of the Pine Haven retirement center (from twelve-year-old Abby to eighty-five-year-old Sadie) share some of life's most profound discoveries and are some of the most true-to-life characters that you are ever likely to meet in fiction. Delivered with her trademark wit, Jill McCorkle's constantly surprising novel illuminates the possibilities of second chances, hope, and rediscovering life right up to the very end. She has conjured an entire community that reminds us that grace and magic can--and do--appear when we least expect it.
Praise For Life After Life…
"Who knew death, regret, and lengthy ruminations about days past could add up to a novel this vibrant, hopeful, and compelling? . . . Gorgeously written . . . McCorkle's greatest gift is in illuminating the countless tiny moments that make up our time on Earth." - O: The Oprah Magazine"Clever, bighearted, and wise." - Vanity Fair"McCorkle's masterful microcosm invokes profound sadness, harsh insight and guffaws, often on the same page." - Kirkus Reviews"By turns comic, insightful, and heart wrenching . . . Shows how old age can give us a second chance: to see ourselves rightly, be truer to those we love, and inspire those we leave behind." - Booklist"I have always loved Jill McCorkle's books: her characters are such characters! But in Life After Life, she has outdone herself . . . There's talk about magic in this wonderful novel, and Jill McCorkle displays her own sleight of hand in delivering a powerful message in such a subtle and beautiful way." - Elizabeth Berg, author of THE DAY I ATE WHATEVER I WANTED"Great writing, poignancy, humor, wisdom—all are in abundance here. Jill McCorkle is one of the South's greatest writers; she is also one of America's." - Ron Rash, author of The Cove
or
Not Currently Available for Direct Purchase