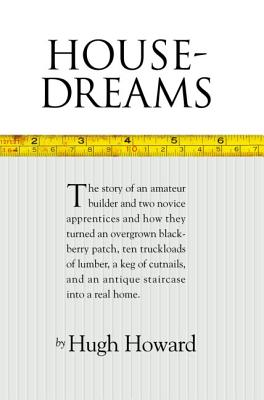 House-Dreams (Hardcover)
Algonquin Books, 9781565122932, 336pp.
Publication Date: June 1, 2001
* Individual store prices may vary.
Description
Imagine a house built and tailored to your every need and personal taste. Hugh Howard dreamed of such a house, and when he and his wife, Betsy, learn that they're expecting their second child, he seizes the opportunity to build a home for their growing family.
Fifteen months later and just in time for the winter holidays, Howard, exhausted and wildly over his budget, completes their home-a fine 2,500-square-foot Federal-style house. And each piece has a story, from the cut nails that come from Howard's old elementary school janitor to the staircase that comes from a parsonage built just after the Civil War.
Howard discovers that all his planning and hard work earn him a house, yes, but he also gains a community of new friends-the people who help him along the way. There's Charlie, whose ancestors helped establish the upstate New York hamlet where they build the house; Ralph, a third-generation mason, who constructs a remarkable Russian heater; and Robbie, an eccentric Irish landscaper who has his own peculiar way of designing a garden.
HOUSE-DREAMS is for readers who spend weekends improving their houses, hardware store die-hards, and the millions who regularly tune in to the Home Garden Network and PBS's This Old House.
About the Author
Hugh Howard is the author of eleven books in the fields of history and architecture, most recently, Mr. and Mrs. Madison's War: American's First Couple and the Second War of Independence. His next book with photographer Roger Straus III, Houses of the Presidents, will be published in October 2012 by Little Brown. He lives in East Chatham, New York, with his wife and two daughters.
or
Not Currently Available for Direct Purchase