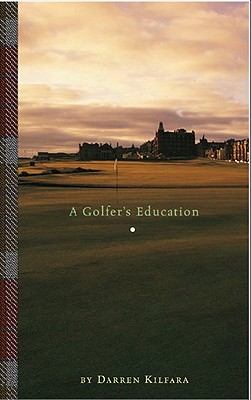 A Golfer's Education
Hardcover

* Individual store prices may vary.
Description
Darren Kilfara's scheme to study abroad at St. Andrews University in Scotland-allegedly, to write a thesis on the history of golf-was foolproof. He would enroll at the school, go to a couple of classes, earn a year's worth of university credit, and become eligible for a year-long student pass to the famed golf courses of St. Andrews, the birthplace of the game, for the low, low price of $150. A perfect plan, so of course it went awry.
A GOLFER'S EDUCATION is the true story of a young man, once a member of Harvard's golf team and a former writer for Golf Digest, who began his year in St. Andrews as an intense, uptight golfer willing to do anything to play a great course and ended it a changed and wiser man and a better golfer in ways immeasurable by a scorecard.
Part golf travelogue and part memoir, this engaging book chronicles Kilfara's year in Scotland playing the finest golf courses in the country, especially the enigmatic Old Course; learning that the Scots see golf as a reflection of their democratic ideals; discovering the subcultures of Scottish golf-drunken bohemian street golf, homeless golf fanatics, betting parlors, and poetic BBC golf commentators; falling in love with a Scottish woman; and finally overcoming his obsession for scores and handicaps and learning to love the simplicity of the game.
Kilfara draws on his substantial knowledge of golf and course architecture to create a perceptive, insightful guide to the great golf coursesof Scotland. But at the same time, he has created a timeless story of an irreverent young man coming of age in the birthplace of the sport.
Algonquin Books, 9781565123014, 368pp.
Publication Date: October 26, 2001
About the Author
Darren Kilfara has played golf for Harvard University, written for Golf Digest, and provided color commentary for ESPN International's soccer broadcasts. He lives in London.
or
Not Currently Available for Direct Purchase