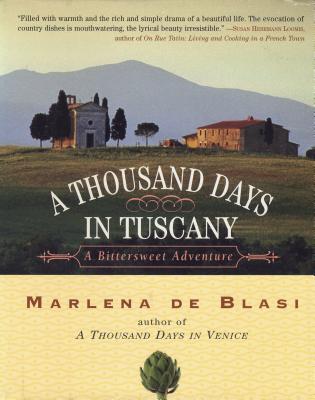 A Thousand Days in Tuscany
A Bittersweet Adventure
Hardcover

* Individual store prices may vary.
Description
American chef Marlena de Blasi and her Venetian husband, Fernando, married rather late in life. In search of the rhythms of country living, the couple moves to a barely renovated former stable in Tuscany with no phone, no central heating, and something resembling a playhouse kitchen. They dwell among two hundred villagers, ancient olive groves, and hot Etruscan springs. In this patch of earth where Tuscany, Umbria, and Lazio collide, there is much to feed de Blasi's two passions--food and love. We accompany the couple as they harvest grapes, gather chestnuts, forage for wild mushrooms, and climb trees in the cold of December to pick olives, one by one. Their routines are not that different from those of villagers centuries earlier.

They are befriended by the mesmeric Barlozzo, a self-styled village chieftain. His fascinating stories lead de Blasi more deeply inside the soul of Tuscany. Together they visit sacred festivals and taste just-pressed olive oil, drizzled over roasted country bread, and squash blossoms, battered and deep-fried and sprayed with sea-salted water. In a cauldron set over a wood fire, they braise beans in red wine, and a stew of wild boar simmers overnight in the ashes of their hearth. Barlozzo shares his knowledge of Italian farming traditions, ancient health potions, and artisanal food makers, but he has secrets he doesn't share, and one of them concerns the beautiful Floriana, whose illness teaches Marlena that happiness is truly a choice.

Like the pleasurable tastes and textures of a fine meal, A Thousand Days in Tuscany is as satisfying as it is enticing. The author's own recipes are included.
Algonquin Books, 9781565123922, 325pp.
Publication Date: November 1, 2004
About the Author
An American chef and food and wine journalist, Marlena de Blasi has written five memoirs, a novel, and two books about the regional foods of Italy. She lives with her husband in the Umbrian hilltown of Orvieto. Her work has been translated into twenty-six languages.
or
Not Currently Available for Direct Purchase