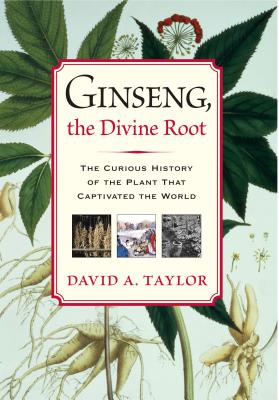 Ginseng, the Divine Root
The Curious History of the Plant That Captivated the World
Paperback

* Individual store prices may vary.
Description
The story behind ginseng is as remarkable as the root itself. Prized for its legendary curative powers, ginseng launched the rise to power of China's last great dynasty; inspired battles between France and England; and sparked a boom in Minnesota comparable to the California Gold Rush. It has made and broken the fortunes of many and has inspired a subculture in rural America unrivaled by any herb in the plant kingdom.

Today ginseng is at the very center of alternative medicine, believed to improve stamina, relieve stress, stimulate the immune system, enhance mental clarity, and restore well-being. It is now being studied by medical researchers for the treatment of cancer, diabetes, and Parkinson's disease.

In Ginseng, the Divine Root, David Taylor tracks the path of this fascinating plant—from the forests east of the Mississippi to the bustling streets of Hong Kong and the remote corners of China. He becomes immersed in a world full of wheelers, dealers, diggers, and stealers, all with a common goal: to hunt down the elusive "Root of Life." Weaving together his intriguing adventures with ginseng's rich history, Taylor uncovers a story of international crime, ancient tradition, botany, herbal medicine, and the vagaries of human nature.
Praise For Ginseng, the Divine Root : The Curious History of the Plant That Captivated the World…
"It's amazing how much folklore, history, and science Taylor has managed to pack into this fantastic book. Ginseng, the Divine Root is one of those rare works that remind us what an endlessly surprising place the world is by revealing the drama concentrated in the past and present of one plant."
—Boston Globe
Algonquin Books, 9781565124011, 304pp.
Publication Date: June 23, 2006
About the Author
DAVID A. TAYLOR has written for Smithsonian, Wired, the Washington Post, the Village Voice, and the Christian Science Monitor. His documentary work has appeared on the Discovery Channel, Animal Planet, the Learning Channel, PBS, and National Geographic. He lives in Alexandria, Virginia.