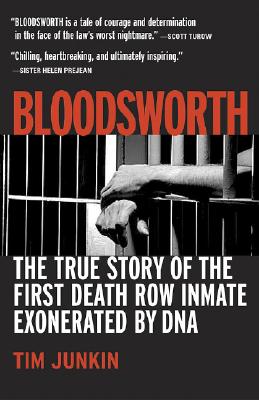 Bloodsworth
The True Story of the First Death Row Inmate Exonerated by DNA
Hardcover

* Individual store prices may vary.
Other Editions of This Title:
Digital Audiobook (4/14/2018)
Paperback (10/14/2005)
Description
Charged with the rape and murder of a nine-year-old girl in 1984, Kirk Bloodsworth was tried, convicted, and sentenced to die in Maryland's gas chamber. From the beginning, he proclaimed his innocence, but when he was granted a new trial because his prosecutors improperly withheld evidence, the second trial also resulted in conviction. Bloodsworth read every book on criminal law in the prison library and persuaded a new lawyer to petition for the then-innovative DNA testing.

After nine years in one of the harshest prisons in America, Kirk Bloodsworth was vindicated by DNA evidence. He was pardoned by the governor of Maryland and has gone on to become a tireless spokesman against capital punishment.
Praise For Bloodsworth: The True Story of the First Death Row Inmate Exonerated by DNA…
"Kirk Bloodsworth's name is more likely to be retained by history than most of the people you will read about in today's newspaper. The first former death row inmate exonerated by DNA, Bloodsworth and his story are not only memorable, but gripping and revelatory as well. More than anything, Bloodsworth is a tale of courage and determination in the face of the law's worst nightmare—the execution of an innocent man."
—Scott Turow, author of Presumed Innocent
 
"Bloodsworth may well be the most incredible and important true story ever written about a death row convict's daily battle for survival, both in the cell block and in the courtrooms. . . . Hollywood should fight for this one."
—Joseph Wambaugh, author of The Blooding
 
"This book does many things exceedingly well, among them making legal complexities clear and the frustrations of battling the system palpable."
—Sister Helen Prejean, author of Dead Man Walking
 
"Bloodsworth is a powerful indictment of a death penalty system that is fundamentally broken. Kirk Bloodsworth is as compelling and decent to the core as any fictional character, but his story is shockingly real."
—Senator Patrick Leahy
 
"A cautionary tale that grabs the attention and holds it."
—Kirkus Reviews
 
"A harrowing 'fly on the wall' look at an inmate struggling to survive on death row. Highly recommended."
—Library Journal, starred review
 
"Should disturb any fair-minded reader on either side of the capital punishment debate."
—Publishers Weekly
 
"[A] gripping and confounding true-crime esposé."
—The Atlanta Journal-Constitution
 
"Tried and convicted for a sadistic murder he did not commit and then sentenced to death, Bloodsworth is an American Josef K."
—Washington Post Book World
 
"A chillingly persuasive argument against the death penalty."
—St. Paul Pioneer Press
 
"The wrongful conviction problem is difficult to avoid, but not unsolvable, as this harrowing story shows."
—The Christian Science Monitor
 
"Explains everything that went wrong to place an innocent man on death row for a crime he knew nothing about."
—The Sunday Denver Post and Rocky Mountain News
 
"Junkin . . . strives for objectivity and factuality, particularly when revealing how right-minded people—police officers or prosecutors, judges or jurors—can make spectacularly wrong decisions that lead to the imprisonment and even the death of innocents."
—The Miami Herald
 
"It is also a story about authorities waiting 10 more years before putting the DNA evidence from the crime scene into the FBI's national genetic database." —Chicago Tribune
 
"Bloodsworth's story is more than a tragic tale. It's a gripping look into a capital murder case and an indictment against a flawed legal system."
—Philadelphia Weekly, editor's pick
 
"Junkin balances a calm, measured eye for the basic procedural of Bloodsworth's arrest, trial, and death-row sentence without editorializing or abandoning an inquisitive mind, forever trying to present all sides to the issues at hand."
—Baltimore City Paper,  "Best Author of 2004"
 
A Shannon Ravenel Book, 9781565124196, 304pp.
Publication Date: October 9, 2004
About the Author
Tim Junkin is a lawyer and an award-winning novelist who lives in Maryland.
or
Not Currently Available for Direct Purchase