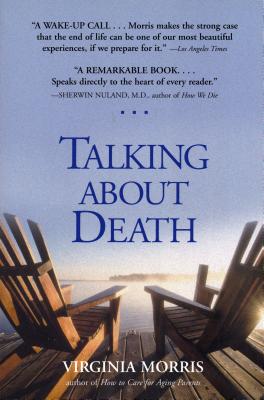 Talking About Death
Paperback

* Individual store prices may vary.
Description
Even in this candidly confessional age, we've been conditioned to avoid discussions of death. Our youth-worshipping culture does everything to deny death, which is why, when the end nears, most of us are inadequately prepared to deal with it.

And the cost of that is great: many are haunted by memories of how inappropriately or painfully or uncomfortably their parents and grandparents died. Many of us avoid even considering the options, in all their complexity, that we will most likely face one day, given our new longevity and the profound advances in medicine.

With its wise and very compelling argument that all of us, at any age, can and should face death before it faces us, Talking About Death addresses the cultural, personal, medical, and legal concerns that are necessary for us--as individuals and as a society--to prepare for a good death, a death where the dying are in control and not, as is too often the case, caught in a downward spiral of medical intervention and misunderstood intentions.

Virginia Morris skillfully weaves together personal stories and practical matters, scientific fact and spiritual sensitivity into an important book about how we can achieve a greater sense of peace in dying, and rediscover the art of living.
Algonquin Books, 9781565124370, 256pp.
Publication Date: January 3, 2004
About the Author
An award-winning journalist, Virginia Morris has devoted her career to researching and writing about health care, medical research and related social and political issues for the last 30 years. She is the author of How to Care for Aging Parents, which won the Books for a Better Life Award and instantly became the best-selling book on the subject when it was first released in 1996. It has sold more than 500,000 copies and has been translated into a number of languages. AARP calls it "indispensable." ABC World News declared it the "the bible for caregivers." And the Wall Street Journal touted it as "the best guide." The third edition was published in 2014. She is also the author of Talking About Death, which came out in 2001. Virginia has been featured on Oprah, The Today Show, Good Morning America, The CBS Morning Show, Primetime, ABC World News with Diane Sawyer, NPR, CNN, and a host of other national media. She testified before Congress at the invitation of Sen. Amy Klobuchar. She now serves as adjunct instructor at Dartmouth's Geisel School of Medicine, is a member of the Dartmouth-Hitchcock ethics committee, is getting a master's degree in bioethics at Harvard, and gives talks around the country on aging, caregiving and end-of-life decisions.