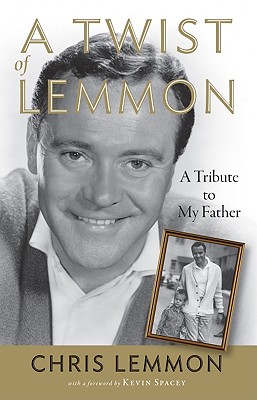 A Twist of Lemmon: A Tribute to My Father (Hardcover)
A Tribute to My Father
Algonquin Books of Chapel Hill, 9781565124806, 193pp.
Publication Date: May 1, 2006
* Individual store prices may vary.
or
Not Currently Available for Direct Purchase
Description
Jack Lemmon was one of our most beloved movie stars. A two-time Academy Award winner, he appeared in dozens of memorable films, including such classics as "Some Like It Hot, Mister Roberts, The Odd Couple, Grumpy Old Men, Missing, The Apartment, " and "The China Syndrome." On-screen, he came across as a kind of "everyman"--audiences loved him because they felt they knew him, because he was on of them.
In "A Twist of Lemmon," Chris Lemmon shares family tales, intimate father-son conversations, and anecdotes from and about his dad. The result is a vivid and enchanting portrait of a less-than-perfect father who in some ways assumed a greater reality for his fans than he did for his son. Chris writes about the difficulty of growing up in a broken home, the treasured time spent with his father, and the friendship that evolved as they came to share their passions for both music and golf. This very personal portrait provides new insight into a man who charmed millions with his rascal's smile and his very human vulnerability.
When Jack Lemmon died in 2001, the world lost one of its favorite actors, but Chris Lemmon lost the man he had admired above all others. "A Twist of Lemmon" is his warm and moving and often very funny celebration of his larger-than-life father.
Joining Chris in his tribute are a number of the people who worked with Jack Lemmon over thy years, including actor Kevin Spacey. In his foreword, Spacey writes, "He was a credit to his profession because he was a man whose humanity was bigger than his talent. And when you think for a moment about the size and depth of that talent, then you begin to understand how seriously he took his role as a human being."
In this first book of its kind written about Jack Lemmon, that "human being" comes fully alive--as an actor, a father, and a best friend. It is a heartwarming and discerning look at a true American legend.
Advertisement