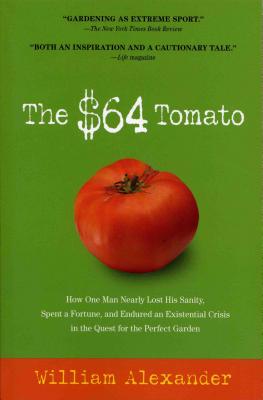 The $64 Tomato: How One Man Nearly Lost His Sanity, Spent a Fortune, and Endured an Existential Crisis in the Quest for the Perfect Ga (Paperback)
How One Man Nearly Lost His Sanity, Spent a Fortune, and Endured an Existential Crisis in the Quest for the Perfect Ga
Algonquin Books of Chapel Hill, 9781565125575, 288pp.
Publication Date: March 2, 2007
Description
Who knew that Bill Alexander's simple dream of having a vegetable garden and small orchard would lead him into life-and-death battles with webworms, weeds, and a groundhog named Superchuck? Over the course of his hilarious adventures, Alexander puzzles over why a six-thousand-volt wire doesn't deter deer but nearly kills his tree surgeon; encounters a gardener who bears an eerie resemblance to Christopher Walken; and stumbles across the aphrodisiac effects of pollen when he plays bumble bee to his apple blossoms.
When he decides (just for fun) to calculate how much it cost to grow one of his beloved Brandywine tomatoes, he comes up with a staggering $64. But as any gardener knows, you can't put a price tag on the rewards of homegrown produce, or on the lessons learned along the way.

Advertisement