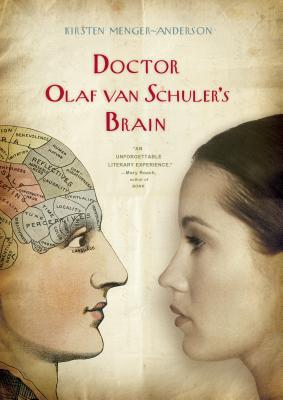 Doctor Olaf van Schuler's Brain (Hardcover)
Algonquin Books, 9781565125612, 290pp.
Publication Date: October 9, 2008
* Individual store prices may vary.
Description
In 1664 Dr. Olaf van Schuler flees the Old World and arrives in New Amsterdam with his lunatic mother, two bags of medical implements, and a carefully guarded book of his own medicines. He is the first in what will become a long line of peculiar physicians. Plagued by madness and guided by an intense desire to cure human affliction, each generation of this unusual family is driven by the science of its day: spontaneous combustion, phrenology, animal magnetism, electrical shock treatment, psychosurgery, genetic research. As they make their way in the world, New York City, too, evolves—from the dark and rough days of the seventeenth century to the towering, frenetic metropolis of today.

Like Patrick Süskind's classic novel Perfume, Kirsten Menger-Anderson's debut is a literary cabinet of curiosities—fascinating and unsettling, rich and utterly singular.
About the Author
Kirsten Menger-Anderson's stories have been short-listed for the Andre Dubus Award, the Richard Yates Award, the Glimmer Train Short Story Award for New Writers, and the Iowa Review story contest and have appeared in a number of literary publications. She lives in San Francisco with her husband and baby.
Praise For Doctor Olaf van Schuler's Brain…
"[A] savvy, sordid string of tales becomes a psychological spellbinder about the good, the bad, and the mad in all of us."—Elle
— San Francisco Chronicle
"Menger-Anderson's fictional take on the harsh realities of old-world medical science is at once grotesque and utterly compelling, as are her madcap characters, who desire so earnestly to find a cure—whatever the cost."—SEED Magazine

— Time Out Chicago
"This little book isn't for everyone, but I sure loved it. If, like me, you've thought from time to time that under our controlled demeanors, our learning and good manners, we're all about one millimeter away from being stark, staring mad, and that the doctors who set up to treat us are probably just as crazy as the rest of us, if not more so, you'll sigh and smile when you read this. These linked short stories take as their subject the sheer weirdness of the medical profession (mostly as it pertains to neuropsychiatric problems). They provide us with a history of mental ailments in America, how they went in and out of fashion according to the times in which we lived. They also give us a wonderful history of the city of New York, with all kinds of seamy and gruesome details thrown in. And they examine our unrelenting curiosity about what actually goes on underneath our skins. . . . The author provides us with a fascinating, detailed family tree so that we can follow the connections of these charlatans (or are they simply dedicated but incompetent healers?) as they diagnose the fashionable diseases of their day and attempt to cure them with the most fashionable treatments." –Washington Post
— New York Times Book Review
"An ingenious and appealing collection of linked stories. . . . Menger-Anderson brings a writerly order to the messiness of our minds." –Chicago Sun-Times
— Boston Globe
"A fascinating kaleidoscope ride across generations of physicians and their patients. The writing is vivid and entertaining, revealing lifetimes and worldviews in a few carefully chosen details. . . . The author's zest for the historical details shines throughout the collection. . . . In this quirky, moving collection, Menger-Anderson illustrates the power of medicine - and family."—San Francisco Chronicle
— South Florida Sun-Sentinel
"[An] epic romp. . . . The scope of Menger-Anderson's debut combined with her intellectual curiosity when it comes to archaic medical procedures is dizzying. Yet her prose is equally rich. . . . It's daunting to conceptualize how the hell she pulls it all off."—Time Out Chicago
— Feminist Review
"Science is an elixir that sweeps characters under its spell. Yet the pace of [Doctor Olaf van Schuler's Brain] is driven as much, if not more, by the reader's romantic appetite—by an itch to discover how each story is romantically resolved and connected to the long lineage."—New York Times Book Review
"Good literary fiction about science and scientists is hard to find, probably because it is so hard to write. . . Fortunately there are some writers who bridge the gap well: Richard Powers, Andrea Barrett, and Alan Lightman, to name a few. And, now, Kirsten Menger-Anderson, whose debut, Doctor Olaf van Schuler's Brain, offers sharp, entertaining, moving, and above all provocative stories about doctors and their work and raises profound questions about the role of medicine in American life. . . Darkly funny, often sad, frequently frightening, and sometimes hopeful, they are the product of a gifted literary writer. . . Let us hope writers like Menger-Anderson — indeed, books themselves — are still around to poke holes in the hype and document, as she has done so deftly here."—Boston Globe
"The year's…gems included…Kirsten Menger-Anderson's creepy first collection, Doctor Olaf van Schuler's Brain."— Sun Sentinel, Best book of 2008
"A thriller that spans five centuries, Doctor Olaf Van Schuler's Brain is entertaining and thought provoking. . . This book is eerie, smart, unique, and very delicately crafted, telling many stories in every layer of time. . . Truly a pleasure to read."—Feminist Review
or
Not Currently Available for Direct Purchase