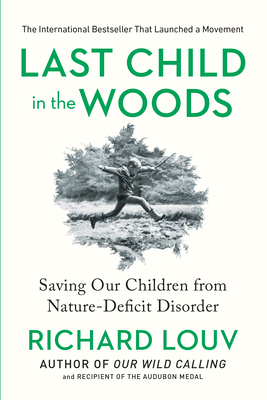 Last Child in the Woods (Paperback)
Saving Our Children From Nature-Deficit Disorder
Algonquin Books, 9781565126053, 416pp.
Publication Date: April 22, 2008
* Individual store prices may vary.
Description
"The children and nature movement is fueled by this fundamental idea: the child in nature is an endangered species, and the health of children and the health of the Earth are inseparable." —Richard Louv, from the new edition

In his landmark work Last Child in the Woods, Richard Louv brought together cutting-edge studies that pointed to direct exposure to nature as essential for a child's healthy physical and emotional development. Now this new edition updates the growing body of evidence linking the lack of nature in children's lives and the rise in obesity, attention disorders, and depression. Louv's message has galvanized an international back-to-nature campaign to "Leave No Child Inside." His book will change the way you think about our future and the future of our children.

"[The] national movement to 'leave no child inside' . . . has been the focus of Capitol Hill hearings, state legislative action, grass-roots projects, a U.S. Forest Service initiative to get more children into the woods and a national effort to promote a 'green hour' in each day. . . . The increased activism has been partly inspired by a best-selling book, Last Child in the Woods, and its author, Richard Louv." —The Washington Post

"Last Child in the Woods, which describes a generation so plugged into electronic diversions that it has lost its connection to the natural world, is helping drive a movement quickly flourishing across the nation." —The Nation's Health

 "This book is an absolute must-read for parents." —The Boston Globe
 
Now includes
A Field Guide with 100 Practical Actions We Can Take 
Discussion Points for Book Groups, Classrooms, and Communities 
Additional Notes by the Author 
New and Updated Research from the U.S. and Abroad
About the Author
Richard Louv, recipient of the 2008 Audubon Medal, is the author of seven books, including Last Child in the Woods and The Nature Principle. The chairman of the Children & Nature Network (www.cnaturenet.org), he is also honorary cochair of the National Forum on Children and Nature. He has written for the San Diego Union-Tribune, the New York Times, the Washington Post, the Christian Science Monitor, and other newspapers and magazines. He has appeared on The Early Show, Good Morning America, Today, CBSEvening News, NBCNightly News, NPR's Morning Edition, Fresh Air, Talk of the Nation, and many other programs. For more information, visit www.lastchildinthewoods.com.
 
Praise For Last Child in the Woods: Saving Our Children From Nature-Deficit Disorder…
"[The] national movement to 'leave no child inside' . . . has been the focus of Capitol Hill hearings, state legislative action, grass-roots projects, a U.S. Forest Service initiative to get more children into the woods and a national effort to promote a 'green hour' in each day. . . . The increased activism has been partly inspired by a best-selling book, Last Child in the Woods, and its author, Richard Louv." —The Washington Post

"Last Child in the Woods, which describes a generation so plugged into electronic diversions that it has lost its connection to the natural world, is helping drive a movement quickly flourishing across the nation." —The Nation's Health

"This book is an absolute must-read for parents." —The Boston Globe

"An honest, well-researched and well-written book, . . . the first to give name to an undeniable problem." —The Atlanta Journal-Constitution

"One of the most thought-provoking, well-written books I've read in recent memory. It rivals Rachel Carson's Silent Spring." —The Cincinnati Enquirer

"Important and original. . . . As Louv so eloquently and urgently shows, our mothers were right when they told us, day after day, 'Go out and play.'" —The Christian Science Monitor

"Last Child in the Woods is the direct descendant and rightful legatee of Rachel Carson's The Sense of Wonder. But this is not the only thing Richard Louv has in common with Rachel Carson. There is also this: in my opinion, Last Child in the Woods is the most important book published since Silent Spring." —Robert Michael Pyle, author of Sky Time in Gray's River

"A single sentence explains why Louv's book is so important: 'Our children,' he writes, 'are the first generation to be raised without meaningful contact with the natural world.' This matters, and Last Child in the Woods makes it patently clear why and lays out a path back." —The Ecologist

"With this scholarly yet practical book, Louv offers solutions today for a healthier, greener tomorrow." —Washington Post Book World

"The simplest, most profound, and most helpful of any book I have read on the personal and historical situation of our children, and ourselves, as we move into the twenty-first century." —Thomas Berry, author of The Dream of the Earth