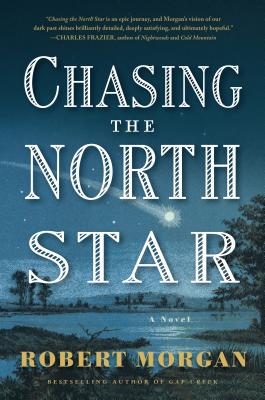 Chasing the North Star
A Novel
Hardcover

* Individual store prices may vary.
Other Editions of This Title:
Digital Audiobook (4/4/2016)
Paperback (4/4/2017)
Description
In his latest historical novel, bestselling author Robert Morgan brings to full and vivid life the story of Jonah Williams, who, in 1850, on his eighteenth birthday, flees the South Carolina plantation on which he was born a slave. He takes with him only a few stolen coins, a knife, and the clothes on his back--no shoes, no map, no clear idea of where to head, except north, following a star that he prays will be his guide.

Hiding during the day and running through the night, Jonah must elude the men sent to capture him and the bounty hunters out to claim the reward on his head. There is one person, however, who, once on his trail, never lets him fully out of sight: Angel, herself a slave, yet with a remarkably free spirit.

In Jonah, she sees her own way to freedom, and so sets out to follow him.

Bristling with breathtaking adventure, Chasing the North Star is deftly grounded in historical fact yet always gripping and poignant as the story follows Jonah and Angel through the close calls and narrow escapes of a fearsome world. It is a celebration of the power of the human spirit to persevere in the face of great adversity. And it is Robert Morgan at his considerable best.
Praise For Chasing the North Star: A Novel…
"Chasing the North Star is an epic journey, and Morgan's vision of our dark past shines brilliantly detailed, deeply satisfying, and ultimately hopeful."
—Charles Frazier, author of Nightwoods and Cold Mountain
 
"A rich, masterfully spun story of two slaves fleeing the South. Robert Morgan's Chasing the North Star, a tale of two slaves seeking freedom, is one of those page-turners that's tough to put down. Not only does he expertly draw the physical landscape…but he gives the reader clear examples of the inner conflict that comes with any change, no matter how necessary."
—Washington Independent Review of Books

"Chasing the North Star by Robert Morgan is the gripping and convincing story of a bright and courageous slave in the American South during the 1850s who runs away seeking freedom. Richly imaginative and thoroughly well researched, Chasing the North Star walks the reader through an extensive and thrilling escape filled with fiery insight and deep personal conviction. Morgan summons a narrative that clearly describes the people, culture, and emotions of the time, especially in antebellum North Carolina and later in New York. His personal connection to the land, including its history and features, enables the reader to experience the thrilling escape vividly. His historical nuances and references are spot-on. Chasing the North Star is an epic journey, vividly detailed, acutely satisfying, and ultimately hopeful. It sheds light upon some of the darkest moments in American history; yet it also illuminates the charity and love expressed by whites who hid, fed and aided the runaways at the risk of their own lives and those of their families."
—New York Journal of Books
 
"…a gorgeous book full of lush prose, compelling characters, and an epic journey across America ten years before the Civil War."
—Chicago Review of Books
 
"…adventurous, compelling…. Remarkably, despite the horrors of slavery and the almost insurmountable obstacles to escape, this is far from a grim novel. Generously laced with humor, it becomes a story of more than survival. It is a story filled with courage and hope."
—Greensboro News & Record
 
"Not only is the subject matter riveting, Morgan's language enhances the tension and defines his characters. The novel shines its light on the simple humanity of two teenagers adrift in a time of such hate and fear that it soon erupted into a bloody civil war. Today, with racial and ethnic tensions again running high, this stark, terrifying story of perilous love and the search for peace is especially illuminating."
—Knoxville News Sentinel
 
"A powerful, gripping, and unrelenting tale of wilderness survival under the most dire of circumstances in the pursuit of freedom: another outstanding work of historical fiction from Morgan."
—Kirkus Reviews

"Morgan's latest is a grittily entertaining, smartly paced narrative about a fugitive slave. Morgan is a first-rate storyteller; he plots his novel extremely well, and readers will find this journey captivating."
—Publishers Weekly
 
"Morgan…presents the reader with a convincing and richly imagined experience."
—Booklist (starred review)
 
"As with Morgan's other eight other works of fiction, this one is hard to put down once begun. But the story is far more complex than a simple tale of page-turning adventure. Morgan's rich grasp of historical detail makes Jonah's and Angel's experiences feel close, almost familiar, despite the distance of their historical period: these are people we can understand."
—Cornell Chronicle

"What an exciting new legend Robert Morgan has created!  And just when we need such a story. Chasing the North Star has the gravity of the old slave narratives, and the blood-chilling action of a contemporary action thriller.  The language reflects Morgan's deep connection to the land and the tradition, and burns with conviction and insight and heart. Jonah Williams is a hero for the ages. Reading of his courage and humanity puts starch in your spine. A must read."
—Randall Kenan, author of Walking on Water
 
Algonquin Books, 9781565126275, 320pp.
Publication Date: April 5, 2016
About the Author
Robert Morgan is the bestselling author of numerous works of fiction—including the Oprah Book Club selection Gap Creek—and non-fiction, and is also an established poet with fourteen collections to his credit. Born in Hendersonville, NC, he teaches at Cornell University in Ithaca, NY, where he is Kappa Alpha Professor of English.
or
Not Currently Available for Direct Purchase