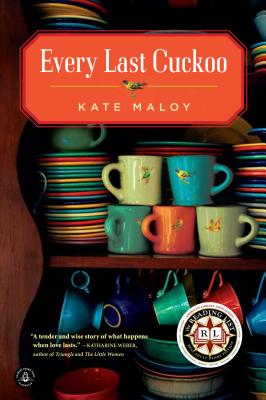 Every Last Cuckoo (Paperback)
Algonquin Books, 9781565126756, 304pp.
Publication Date: May 12, 2009
Other Editions of This Title:
Hardcover (1/22/2008)
* Individual store prices may vary.
Description
"Kate Maloy's remarkable heroine [is] a woman so passionate, so intelligent, and so full of life that most readers will quickly forget that she happens to be in her seventies. This is a wonderful debut." —Margot Livesey, author of The Missing World

Sarah Lucas imagined the rest of her days would be spent living peacefully in her rural Vermont home in the steadfast company of her husband. But now, with Charles's sudden passing, seventy-five-year-old Sarah is left inconsolably alone.

As grief settles in, Sarah's mind lingers on her past: her imperfect but devoted fifty-year marriage to Charles; the years they spent raising their three very different children; and her childhood during the Great Depression, when her parents opened their home to countless relatives and neighbors. So, when a variety of wayward souls come seeking shelter in Sarah's own big, empty home, her past comes full circle. As this unruly flock forms a family of sorts, they—with Sarah—nurture and protect one another, all the while discovering their unsuspected strengths and courage.

In the tradition of Jane Smiley and Sue Miller, Kate Maloy has crafted a wise and gratifying novel about a woman who gracefully accepts a surprising new role just when she though her best years were behind her.
About the Author
Kate Maloy is the author of the memoir A Stone Bridge North: Reflections in a New Life. Her work has been published online in Literary Mama and VerbSap and in the Readerville Journal, the Kenyon Review, and the anthologies For Keeps and Choice. She lives with her husband on the central coast of Oregon. Author Web site: www.katemaloy.com.



Praise For Every Last Cuckoo…
"A story about the profound gifts of time, love, and loss. . . . Maloy's message is about affirming the profundity of grief by expressing that energy in positive ways. This story is her generous vision of how things could be."--The Olympian
"Maloy's novel grabs the reader by the heart...In this portrait of a long and loving marriage, [she] gives us a real human family, with all its love and conflict and change, as well as a look at the richness that can come with age." —The New Orleans Times-Picayune

"The appeal of Maloy's debut—which has the fast-forward quality of a fairy tale—is not in its subtlety but in its conviction." —People

"Marvelous...Its tenderly wrought portrayal of elderly life has an unexpectedly powerful effect." —The Oregonian

"A truly engrossing novel...This lovely tale depicts the surprises and changes that come with aging...An excellent book club selection." —Library Journal

We first see Sarah Lucas as she is racing into the Vermont winter woods on the heels of her dog Sylvie. What was your first impression of this 75-year-old woman?
What do you think the woods represents to Sarah? How has her relationship to nature changed since her childhood? What caused it to change?
Rural Vermont is rugged, poor, and sparsely populated. How do you think this environment has affected Sarah throughout her life?
Sarah's long marriage to Charles was mainly happy and successful, but it did have rough periods. How did the two of them weather these times without lingering resentments?
After Charles dies, Sarah goes numb, avoids people, and doesn't even cry. What breaks into her suspended state? Once her numbness wears off, does her grief take on new aspects and forms of expression, or does she just set grief aside and get on with things?
What do you see as milestones on Sarah's pathway to a new life and perhaps even a new identity? Have you ever reinvented yourself? What were your milestones?
On impulse, Sarah takes Charles's old camera with her on a late-winter walk. Eventually, photography helps to change the way she sees. What does she examine with her new eyes?
Why, over time, does Sarah enjoy taking increasingly puzzling and ambiguous photographs?
Charlotte and David respond very differently to Sarah's photographs. How do their responses reflect their relationships with her?
Sarah's view of the world is somewhat altered after hearing about the murder of Tess's husband and Mordechai's experiences in Israel. How do these things affect Sarah's actions and assumptions?
Why do you think Sarah agrees to take new people into her life? For instance, why Mordechai, and then her granddaughter and the two other teenagers?
What enables Sarah's teenage boarders—who had been so unhappy and even angry in their own homes—to calm down in Sarah's?
Why do you think it upsets Charlotte when her predictable mother starts behaving unpredictably?
What is the basis for the deepening friendship between Sarah and Mordechai?
As the seasons change throughout the novel, so do all the characters' lives, both inner and outer. Sarah's changes are the most obvious and dramatic, but which of the other characters' lives changed the most, and which changes were most vivid to you?
What might Sarah have done differently in her encounter with Roger? How different might the outcome have been?
Throughout this novel we see natural hazards in the form of violent storms, life-threatening cold, and animal predation. We see human hazards such as domestic violence, murder, and warfare. What is the connection? Are humans given to violence or destruction because we are part of nature? Or can we choose otherwise?
What would Charles have thought of the Sarah we see at the end of this book?