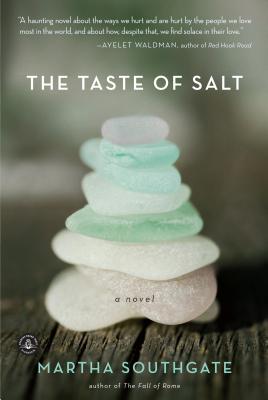 The Taste of Salt
Paperback

* Individual store prices may vary.
Description
Award-winning novelist Martha Southgate (who, in the words of Julia Glass, "can write fat and hot, then lush and tender, then just plain truthful and burning with heart") now tells the story of a family pushed to its limits by addiction over the course of two generations.

Josie Henderson loves the water and is fulfilled by her position as the only senior-level black scientist at the Woods Hole Oceanographic Institute. In building this impressive life for herself, she has tried to shed the one thing she cannot: her family back in landlocked Cleveland. Her adored brother, Tick, was her childhood ally as they watched their drinking father push away all the love that his wife and children were trying to give him. Now Tick himself has been coming apart and demands to be heard.

Weaving four voices into a beautiful tapestry, Southgate charts the lives of the Hendersons from the parents' first charmed meeting to Josie's realization that the ways of the human heart are more complex than anything seen under a microscope.
Praise For The Taste of Salt…
One of O: The Oprah Magazine's "10 Titles to Pick Up Now"

"[A] searing, gorgeous, brilliant and profoundly human novel about two generations of an African American family riding the slow-mo roller coaster of addiction." —San Francisco Chronicle

"Four voices tell this poignant story, making each page ache with a different shade of loneliness." —People

"In The Taste of Salt, Southgate writes with a minor-key melancholy that comes on softly, but lingers long after." —Entertainment Weekly

"[The Taste of Salt] hauntingly explores how the mistakes people make affect everyone around them." —NPR.org

"One of our favorite authors delves into a taboo topic: alcoholism in the Black community . . . Southgate is one of our most reliable tour guides inside the minds of fictitious Black rebels and outsiders . . . In a virtuoso balancing act, [she] tells [a] poignant story." —Essence

"A steady undercurrent of raw, complex emotions keeps the pages turning." —Bust Magazine


"Southgate brings a thoughtful intelligence to her downbeat tale." —Christian Science Monitor

"With compassion and a quiet grief, Southgate examines the ways families self-destruct even as they try to hold it together." —BookPage

"Southgate's arresting, fluid prose and authentic dialogue come together in a resonating study of relationships . . . A fascinating story that shows how the mistakes people make affect all those around them." —Publishers Weekly

"A compassionate, complex, and concentrated novel, tenderly powerful, that explores family bonds that last long after the family is dispersed." —Booklist

"Southgate does a wonderful job of telling Josie's story, touching on racism, sexism, alcoholism, and emotional infidelity . . . A good, attention-grabbing read." —Library Journal
Algonquin Books, 9781565129252, 288pp.
Publication Date: September 13, 2011
About the Author
Martha Southgate has been an editor at Essence, a reporter for Premiere and the New York Daily News, and a contributor to the New York Times. A graduate of Smith College, she has an MFA in creative writing from Goddard College. Author of two acclaimed novels, The Fall of Rome and Third Girl from the Left, she has taught at Brooklyn College and the New School and lives in Brooklyn with her husband and two children. Find her online at www.marthasouthgate.com.