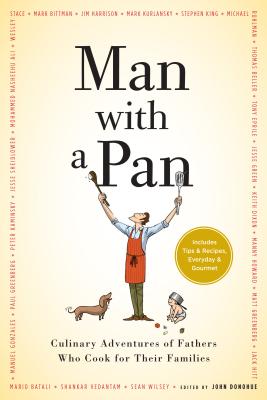 Man with a Pan
Paperback

* Individual store prices may vary.
Description
Look who's making dinner! Twenty-one of our favorite writers and chefs expound upon the joys—and perils—of feeding their families.

Mario Batali's kids gobble up monkfish liver and foie gras. Peter Kaminsky's youngest daughter won't eat anything at all. Mark Bittman reveals the four stages of learning to cook. Stephen King offers tips about what to cook when you don't feel like cooking. And Jim Harrison shows how good food and wine trump expensive cars and houses.

This book celebrates those who toil behind the stove, trying to nourish and please. Their tales are accompanied by more than sixty family-tested recipes, time-saving tips, and cookbook recommendations, as well as New Yorker cartoons. Plus there are interviews with homestyle heroes from all across America—a fireman in Brooklyn, a football coach in Atlanta, and a bond trader in Los Angeles, among others.

What emerges is a book not just about food but about our changing families. It offers a newfound community for any man who proudly dons an apron and inspiration for those who have yet to pick up the spatula.
Praise For Man with a Pan…
"Inspirational, heartwarming tales of fathers in the kitchen . . . An engaging collection that should inspire comfort for the man who cooks while his baby bangs on the pots and pans."
―Kirkus Reviews

"Throughout the book, what comes across strongest is the authors' love for the joy of providing for their families in a newly satisfying way. Mario Batali explains it perfectly: 'The best reason to cook, besides its being delicious and good for you, is that it will automatically make you look good. You'll look like a hero every day.' It's a wonder, in fact, that we let women in the kitchen at all."
―Saveur

"Donohue piles his plate high with writers, chefs, artists, and businessmen to serve up this multi-author work devoted to modern fathers everywhere…Readers won't have any trouble recognizing which pieces came from professional writers and which from stock-exchange gents, but
they will hungrily anticipate each man-with-a-pan's "signature dish," placed at the end of his chapter, along with a recipe and a list of some of his favorite cookery books."
―Booklist

"This well-organized compilation breaks free from its tidy package with adaptable, exciting recipes like Beer-Can Chicken, Peanut Butter Soup, Carbonara de Zucchine, and Mexican Chocolate Pie. It trades stereotypes for truisms and is all the more authentic for it. Highly recommended."
―Library Journal

"It's a really great rhyme, so what's not to love? This isn't one of those best-of collections filled with essays that have already been anthologized to death, but an intimate sprinkling of bites and bits put together by John Donohue a New Yorker editor, who says that he does almost all the cooking for his family."
—The Daily Beast

"New Yorker editor John Donahoe offers this collection of essays—and yes, a few recipes—in which notable personalities from author Stephen King to chef Mario Batali open up about their foibles and triumphs in the kitchen. If nothing else, it reinforces the idea that learning how to make meals for loved ones is a wonderful way to provide for one's family."
—The Smithsonian

"Fathers from chef Mario Batali to novelist Stephen King offer up tips for putting supper on the table."
—USA Today

"The book is a clever mixture of food stories from a variety of guys—including Stephen King (with a recipe for Pretty Good Cake, and no one dies) and Bittman himself."
—Philadelphia Inquirer

"Thirty-four writers share their kitchen war stories and their recipes in this delightful anthology, perfect for any dad who's had to whip up a weekday supper."
—Newsday

"For the thinking man/chef, Man with a Pan is an honest collection of essays and recipes by fathers who cook."
—Daily Candy

"An entertaining look at the widening world of dads-in-the-kitchen."
—Wall Street Journal
Algonquin Books, 9781565129856, 326pp.
Publication Date: May 17, 2011
About the Author
John Donohue, an editor at the New Yorker, has been passionate about food all his life. He worked at a retail fish market when he was in college and was a short-order cook after graduation. He lives in Brooklyn with his wife and two daughters. He blogs about the cooking he does for his family at www.stayatstovedad.com.