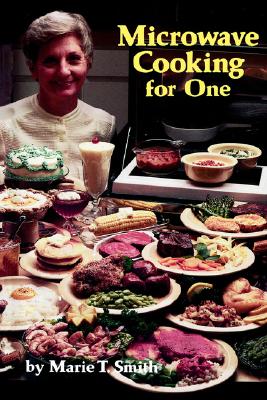 Microwave Cooking for One (Paperback)
Pelican Publishing Company, 9781565546660, 276pp.
Publication Date: December 31, 1999
* Individual store prices may vary.
Description
Fast, easy, and economical, the recipes in Microwave Cooking for One are ideal for individuals, whether they live alone or share busy modern households. From breakfast through dinner, fresh, delicious meals can be prepared to satisfy personal tastes without wasted food, overheated kitchens, or messy clean-up.
Author Marie Smith emphasizes the importance of measured portions, careful timing, and the right utensils when cooking in a microwave. A food scale assures the success of the recipes and is also helpful to those watching their food intake. Inexperienced cooks will be able to cook like professionals with these easy-to-follow recipes. From Soft-Boiled Eggs to Fried Scallops and Shoo-Fly Cake, there's something for everyone, and with over 300 recipes, there are plenty of possibilities for exciting meals. Also, when you begin with a recipe for one, it's easy to double or even triple when you need more to go around.
Uniquely practical, Microwave Cooking for One is a guide to a new method of wholesome and efficient cooking.
Marie Smith, a former resident of Lakeland, Florida, was an experienced microwave chef who wrote a "Microwave Cooking" column for the Plant City Post. Her frequent attendance at microwave symposiums made her knowledgeable in many areas of microwave cookery and technology. For a sample of the wonderful recipes in this book, try Ms. Smith's recipe
for Onion Hamburgers.
Onion Hamburger
3 oz. lean ground beef
1/8 tsp. salt
1 tsp. dry bread crumbs
1/4 tsp. Worcestershire sauce
1 tsp. minced fresh or frozen onion
dash of black pepper
1 tbsp. milk
Mix all ingredients in 1-quart mixing bowl. Shape into 5-inch patty and set aside. Heat 6" browning skillet 2 minutes at 100% power. Place patty in skillet and cover skillet with paper towel. Cook 1:30 minutes at 100% power, turning patty over halfway through cooking time. Let stand 1 minute. Place on plate and serve.