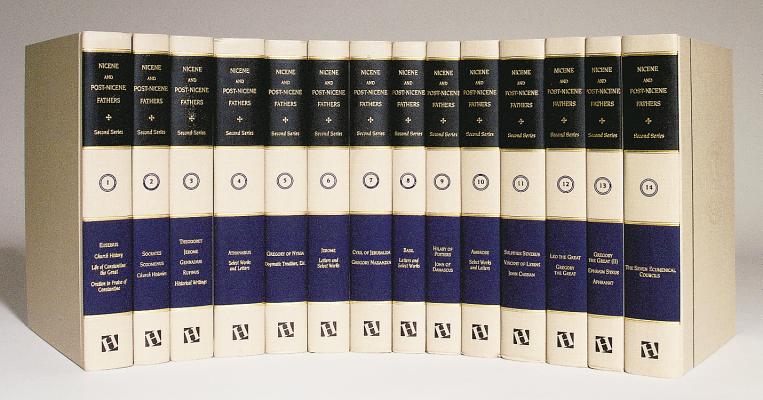 The Early Church Fathers--Nicene and Post-Nicene Fathers
Second Series: 14 Volumes
Hardcover

* Individual store prices may vary.
Other Editions of This Title:
Hardcover (3/1/1994)
Description
The Nicene and Post-Nicene Fathers: Second Series contains in fourteen volumes the works of the Greek Fathers from Eusebius to John of Damascus and the Latin Fathers from Hilary to Gregory the Great. Several of the writings appear for the first time in English. The first three volumes are a complete collection of the historical writings of the Fathers, whose permanent value as the primary sources is universally acknowledged. Other volumes contain the works of eminent figures in early Christian history, such as Athanasius, Jerome, and Ambrose. The series concludes with the canons and decrees of the seven ecumenical councils, as well as canons of local synod with ecumenical acceptance. The Second Series is edited by Philip Schaff, eminent church historian and professor at Union Theological Seminary, NY, and Henry Wace, Principal of Kings College, London. Volume Titles:
Volume 1: Eusebius: Church History, Life of Constantine the Great, Oration in Praise of Constantine
Volume 2: Socrates, Sozomenus: Church Histories
Volume 3: Theodoret, Jerome, Gennadius, Rufinus: Historical Writings
Volume 4: Anthanasius: Selects Works and Letters
Volume 5: Gregory of Nyssa: Dogmatic Treatises, etc.
Volume 6: Jerome: Letters and Select Works
Volume 7: Cyril of Jerusalem, Gregory Nazianzen
Volume 8: Basil: Letters and Select Works
Volume 9: Hilary of Poitiers, John of Damascus
Volume 10: Ambrose: Select Works and Letters
Volume 11: Sulpitius Severus, Vincent of Lerins, John Cassian
Volume 12: Leo the Great, Gregory the Great
Volume 13: Gregory the Great, Ephraim Syrus, Aphrahat
Volume 14: The Seven Ecumenical Councils.
Hendrickson Publishers, 9781565631168, 8000pp.
Publication Date: March 1, 1994
or
Not Currently Available for Direct Purchase