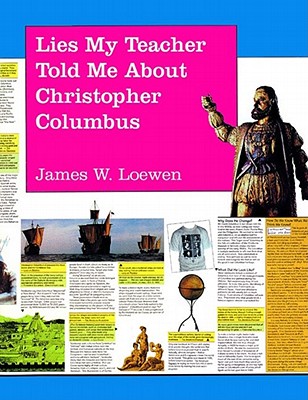 Lies My Teacher Told Me about Christopher Columbus
What Your History Books Got Wrong
Paperback

* Individual store prices may vary.
Other Editions of This Title:
Paperback (7/17/2018)
Hardcover (7/31/2018)
Paperback (8/12/2014)
Hardcover (4/8/2008)
Paperback (9/3/1996)
Paperback (10/16/2007)
Description
In "Lies My Teacher Told Me About Christopher Columbus," the bestselling author of "Lies My Teacher Told Me" offers a graphic corrective to the Columbus story told in so many American classrooms. First published over fifteen years ago and long out-of-print, the poster and accompanying paperback book sum up the mis-tellings--and reveal the real story--in a graphically appealing and accessible format.
In vintage Loewen fashion, the poster juxtaposes short quotes from a range of high school textbooks currently in use, with excerpts from primary sources that clearly show how textbooks have "lied" by knowingly substituting crowd-pleasing myths for grim and gruesome historical evidence.
In fact, these textbooks intentionally omitted every important detail that we do know about Columbus's fateful voyage to the Americas. Among countless other facts, Loewen demonstrates that Columbus and his men were far from the first to set foot in the "New World," and that the peoples he encountered there did not submit to the "god-like" authority of him and his crewmen, but rather to the deadly forms of smallpox and bubonic plague they brought with them from Europe.
In concise, deeply engaging prose, Loewen expands on these little-discussed facts, putting them in the larger context of a discussion of "truth" and revisionist history.
New Press, The, 9781565840089, 48pp.
Publication Date: October 1, 2006
About the Author
James W. Loewen is the bestselling author of "Lies My Teacher Told Me," "Lies Across America," and "Sundown Towns," all available from The New Press, among many other books and articles. He is a regular contributor to the History Channel's "History" magazine. Loewen is a professor emeritus of sociology at the University of Vermont and lives in Washington, D.C.
or
Not Currently Available for Direct Purchase