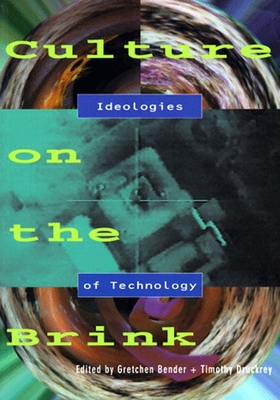 Culture on the Brink (Paperback)
Ideologies of Technology (Discussions in Contemporary Culture #9)
New Press, 9781565844964, 361pp.
Publication Date: September 1, 1998
* Individual store prices may vary.
Description
With contributions by: Laurie Anderson Stanley Aronowitz Gretchen Bender Gary Chapman James Der Derian Timothy Druckrey Billy Kluver Les Levidow R.C. Lewontin Joan H. Marks Margaret Morse Simon Penny Kevin Robins Avital Ronell Tricia Rose Andrew Ross Elaine Scarry Herbert I. Schiller Wolfgang Schirmacher Paula A. Treichler Langdon Winner Kathleen Woodward
Discussions in Contemporary Culture is an award-winning series co-published with the Dia Center for the Arts in New York City. These volumes offer rich and timely discourses on a broad range of cultural issues and critical theory. The collection covers topics from urban planning to popular culture and literature, and continually attracts a wide and dedicated readership.
About the Author
Gretchen Bender (1952-2004) was an artist who took to task the proliferation of mass media. Exhibitions of her work and performances of her electronic media theater works have included presentations at the Moderna Museet, Stockholm; the Setagaya Museum, Tokyo; and the Museum of Modern Art, San Francisco. Her work is in the collections of the Museum of Modern Art in Manhattan, the Pompidou Center in Paris, and the Menil Collection in Houston. She co-edited, with Timothy Druckrey, Culture on the Brink: Ideologies of Technology: Discussions in Contemporary Culture #9 (The New Press). Timothy Druckrey is the director of the Graduate Photographic and Electronic Media program at the Maryland Institute College of Art and also works as a curator, writer, and editor living in New York City. He lectures internationally about the social impact of photography, electronic media, the transformation of representation, and communication in interactive and networked environments. He co-curated the exhibition Iterations: The New Image at the International Center of Photography and edited the book of the same name. He is also the editor of Electronic Culture: Technology and Visual Representation and series editor for Electronic Culture: History, Theory, Practice. He co-organized the international symposium Ideologies of Technology at the Dia Center of the Arts and co-edited, with Gretchen Bender, Culture on the Brink: Ideologies of Technology: Discussions in Contemporary Culture #9 (The New Press).
or
Not Currently Available for Direct Purchase