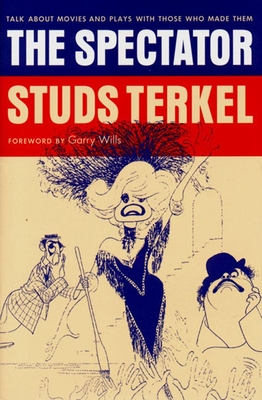 The Spectator (Hardcover)
Talk about Movies and Plays with the People Who Make Them
New Press, 9781565845534, 364pp.
Publication Date: September 1, 1999
* Individual store prices may vary.
Description
The Studs Terkel Interviews: Film and Theater collects the Pulitzer Prize-winning oral historian's remarkable conversations with some of the greatest luminaries of film and theater. Originally published under the title The Spectator, this "knowledgeable and perceptive" (Library Journal) look at show business presents the actors directors, playwrights, dancers, lyricists, and others who created the dramatic works of the twentieth century.
Among the many highlights in these pages, Buster Keaton explains the wonders of unscripted silent comedy, Federico Fellini reflects on honesty in art, Carol Channing reveals that she is far more serious than she lets on, and Marlon Brando turns the tables and wants to interview Terkel. We learn about crucial artistic decisions in the lives of Arthur Miller, Tennessee Williams, and Edward Albee and hear from a range of film directors, from Vittorio De Sica and King Vidor to Satyajit Ray. We even get to witness Terkel playing straight man to a wildly inventive Zero Mostel. Because Terkel knows his subjects' work intimately, he asks precisely the right questions to elicit the most revealing responses. As the New York Times Book Review noted, "Terkel's knowledge and force of personality make him fully a player alongside his famous guests."
About the Author
Studs Terkel (1912-2008) was an award-winning author and radio broadcaster. He is the author of Race: How Blacks and Whites Think and Feel About the American Obsession; Division Street: America, Coming of Age: Growing Up in the Twentieth Century; Talking to Myself: A Memoir of My Times; "The Good War" An Oral History of World War II; Working: People Talk About What They Do All Day and How They Feel About What They Do; The Studs Terkel Reader: My American Century; American Dreams: Lost and Found; The Studs Terkel Interviews: Film and Theater; Hard Times: An Oral History of the Great Depression; Will the Circle Be Unbroken?: Reflections on Death, Rebirth, and Hunger for a Faith; Giants of Jazz; Hope Dies Last: Keeping the Faith in Troubled Times; And They All Sang: Adventures of an Eclectic Disc Jockey; Touch and Go: A Memoir; P.S.: Further Thoughts from a Lifetime of Listening; and Studs Terkel's Chicago, all published by The New Press. He was a member of the Academy of Arts and Letters and a recipient of a Presidential National Humanities Medal, the National Book Foundation Medal for Distinguished Contribution to American Letters, a George Polk Career Award, and the National Book Critics Circle 2003 Ivan Sandrof Lifetime Achievement Award.
or
Not Currently Available for Direct Purchase