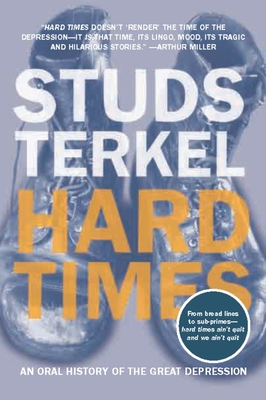 Hard Times
An Oral History of the Great Depression
Paperback

* Individual store prices may vary.
Other Editions of This Title:
Paperback (10/9/2012)
Description
From the Pulitzer Prize-winning author of The Good War: A masterpiece of modern journalism and "a huge anthem in praise of the American spirit" (Saturday Review). In this "invaluable record" of one of the most dramatic periods in modern American history, Studs Terkel recaptures the Great Depression of the 1930s in all its complexity. Featuring a mosaic of memories from politicians, businessmen, artists, striking workers, and Okies, from those who were just kids to those who remember losing a fortune, Hard Times is not only a gold mine of information but a fascinating interplay of memory and fact, revealing how the 1929 stock market crash and its repercussions radically changed the lives of a generation. The voices that speak from the pages of this unique book are as timeless as the lessons they impart (The New York Times). "Hard Times doesn't 'render' the time of the depression--it is that time, its lingo, mood, its tragic and hilarious stories." --Arthur Miller "Wonderful The American memory, the American way, the American voice. It will resurrect your faith in all of us to read this book." --Newsweek "Open Studs Terkel's book to almost any page and rich memories spill out . . . Read a page, any page. Then try to stop." --The National Observer
New Press, 9781565846562, 480pp.
Publication Date: July 7, 2005