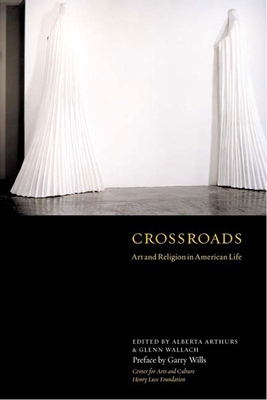 Crossroads
Art and Religion in American Life
Hardcover

* Individual store prices may vary.
Description
From church-sponsored arts festivals to religious protests outside museums, religion and art often interact as dynamic forces in American life. Now, following up on a fascinating series of dialogues among artists, religious leaders, journalists, and scholars, an interdisciplinary group of distinguished thinkers investigates this complex relationship, looking for common ground and opportunities for cooperation between the arts and religion in America.
Crossroads goes beyond media hype to explain both the historical roots and current realities of the ways people understand art and religion in their daily lives, and it places the sensational controversies into context, from an examination of the Brooklyn Museum protest to a conversation with leading artists about spirituality in their work. Featuring a preface by Garry Wills, Crossroads brings art and religion in American life--past, present, and future--into sharper focus.
Contributors include:
Paul DiMaggio, Princeton University
David Halle, University of California, Los Angeles
Neil Harris, University of Chicago
Peter Marsden, Harvard University
Sally Promey, University of Maryland
Amei Wallach, International Association of Art Critics
Robert Wuthnow, Princeton University
New Press, 9781565846609, 283pp.
Publication Date: May 1, 2001
About the Author
Alberta Arthurs is an independent contractor in the arts and humanities and a frequent commentator and writer on cultural issues. She is a former director for arts and humanities at the Rockefeller Foundation.Glenn Wallach has taught history and American studies at Yale and Georgetown universities and was formerly a senior associate scholar at the Center for Arts and Culture. Located in Washington, D.C., the Center for Arts and Culture is America's only independent think tank for arts and cultural issues.