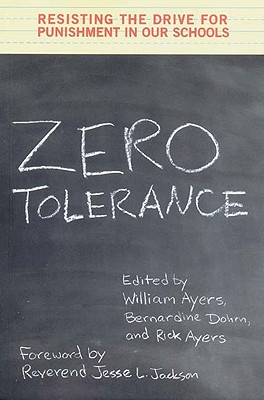 Zero Tolerance (Paperback)
Resisting the Drive for Punishment in Our Schools
New Press, 9781565846661, 263pp.
Publication Date: November 1, 2001
* Individual store prices may vary.
Description
"Zero tolerance" began as a prohibition against guns, but it has quickly expanded into a frenzy of punishment and tougher disciplinary measures in American schools. Ironically, as this timely collection makes clear, recent research indicates that as schools adopt more zero tolerance policies they in fact become less safe, in part because the first casualties of these measures are the central, critical relationships between teacher and student and between school and community.
Zero Tolerance assembles prominent educators and intellectuals, including the Rev. Jesse L. Jackson, Sr., Michelle Fine, and Patricia Williams, along with teachers, students, and community activists, to show that the vast majority of students expelled from schools under new disciplinary measures are sent home for nonviolent violations; that the rush to judge and punish disproportionately affects black and Latino children; and that the new disciplinary ethos is eroding constitutional protections of privacy, free speech, and due process. Sure to become the focus of controversy, Zero Tolerance presents a passionate, multifaceted argument against the militarization of our schools.
About the Author
William Ayers is Distinguished Professor of Education and Senior University Scholar at the University of Illinois at Chicago (retired). He co-edited "City Kids, City Teachers"; "Teaching for Social Justice"; "Zero Tolerance"; and "City Kids, City Schools" (all available from The New Press).

Bernardine Dohrn is director of the Children and Family Justice Center at Northwestern University School of Law, Legal Clinic.

Rick Ayers teaches at Berkeley High School and is the author of "Studs Terkel s Working: A Teaching Guide.""