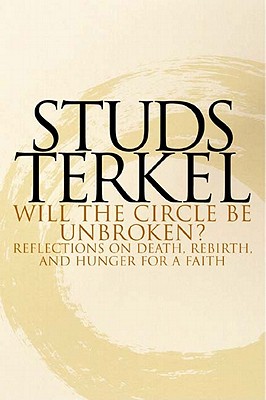 Will the Circle Be Unbroken
Hardcover

* Individual store prices may vary.
Other Editions of This Title:
Paperback (10/1/2014)
Paperback (11/26/2002)
Paperback (3/7/2002)
Description
Studs Terkel has turned to the ultimate human experience, that of death and the possibility of life afterward. Death is the one experience we all share but cannot know. In Studs Terkel's powerful new book, "Will the Circle Be Unbroken?" a wide range of people address that final experience and its impact on the present in which we live. In talking about the ultimate and unknowable culmination of our lives, these people give voice to their deepest beliefs and hopes, reflecting on the lives they have led and what still lies before them. The result is a book that may well be Terkel's most popular, a universal and deeply moving account of death and religion.
This is the first time Terkel addresses the whole realm of religious belief and of expectations of an afterlife, including reincarnation. Interviewing a fascinating variety of people, he is able to come up with an extraordinary range of experience and of belief, all of which prove far more complex than Terkel anticipated.
In the tradition of his books "Working" and "Coming of Age," Studs Terkel addresses an issue bound up with all of our lives, yet rarely discussed on its own terms. From a Hiroshima survivor to an AIDS caseworker, from a death row parolee to a woman who emerged from a two-year coma, these interviewees find an eloquence and grace in dealing with a topic many of us have yet to discuss openly and freely.
Terkel also interviews the vast array of people who confront death in their everyday lives, whether as policemen, firemen, emergency health workers, doctors, or nurses. Many of the most moving interviews deal with AIDS, and how the disease has devastated whole communities and forced people to face death at the young ages we associate with centuries past.

New Press, The, 9781565846920, 407pp.
Publication Date: October 1, 2001
About the Author
Studs Terkel (1912-2008) was an award-winning author and radio broadcaster. He is the author of "Race: How Blacks and Whites Think and Feel About the American Obsession"; "Division Street: America," "Coming of Age: Growing Up in the Twentieth Century"; "Talking to Myself: A Memoir of My Times"; ""The Good War" An Oral History of World War II"; "Working: People Talk About What They Do All Day and How They Feel About What They Do"; "The Studs Terkel Reader: My American Century"; "American Dreams: Lost and Found"; "The Studs Terkel Interviews: Film and Theater"; "Hard Times: An Oral History of the Great Depression"; "Will the Circle Be Unbroken?: Reflections on Death, Rebirth, and Hunger for a Faith"; "Giants of Jazz"; "Hope Dies Last: Keeping the Faith in Troubled Times"; "And They All Sang: Adventures of an Eclectic Disc Jockey"; "Touch and Go: A Memoir"; "P.S.: Further Thoughts from a Lifetime of Listening"; and "Studs Terkel's Chicago," all published by The New Press. He was a member of the Academy of Arts and Letters and a recipient of a Presidential National Humanities Medal, the National Book Foundation Medal for Distinguished Contribution to American Letters, a George Polk Career Award, and the National Book Critics Circle 2003 Ivan Sandrof Lifetime Achievement Award.
or
Not Currently Available for Direct Purchase