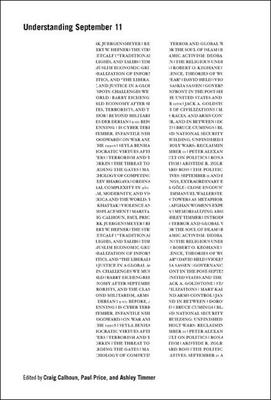 Understanding September 11 (Paperback)
New Press, 9781565847743, 384pp.
Publication Date: September 1, 2002
* Individual store prices may vary.
Description
When terrorists flew jets into World Trade Center and the Pentagon on September 11, 2001, the social effects were as dramatic as the visual images. Individual lives, families, friendship networks, corporations, global financial flows, and politics were all transformed. Moving beyond the headlines, first impressions, political speeches, and soundbites, Understanding September 11 is a basic resource for making sense of these changes. Knowledge from the social sciences fills in necessary background, provides contexts for interpretation, and offers vital analytic perspectives. It helps us see the underlying roots of the current crisis, as well as the influence of social change. It shows how religious and cultural factors intertwine with economic and security concerns. It allows us to make sense of the role of Islam, the impact on international relations, and the challenges for democratic societies.


Written by many of today's foremost anthropologists, economists, historians, political scientists, and sociologists, Understanding September 11 offers the most complete account available, not just of terror and tragedy but of the challenges we now face, and the issues we must understand in order to make informed choices about our future.
About the Author
Craig Calhoun is the director of the London School of Economics and Political Science. He was formerly University Professor at NYU, the director of the Institute for Public Knowledge, and the president of the Social Science Resource Council. His books include the prizewinning Neither Gods Nor Emperors, Nations Matter, Critical Social Theory, and The Roots of Radicalism. His work has been translated into ten languages.
or
Not Currently Available for Direct Purchase