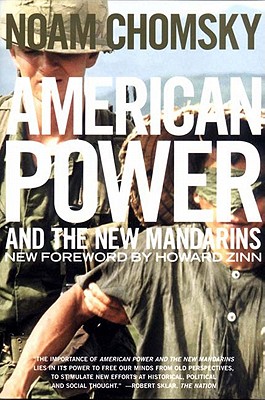 American Power and the New Mandarins (Paperback)
Correcting and Curing Bad Habits
New Press, 9781565847750, 432pp.
Publication Date: November 14, 2002
* Individual store prices may vary.
Description
American Power and the New Mandarins is Noam Chomsky's first political book, widely considered to be among the most cogent and powerful statements against the American war in Vietnam. Long out of print, this collection of early, seminal essays helped to establish Chomsky as a leading critic of United States foreign policy. These pages mount a scathing critique of the contradictions of the war, and an indictment of the mainstream, liberal intellectuals--the "new mandarins"--who furnished what Chomsky argued was the necessary ideological cover for the horrors visited on the Vietnamese people.
As America's foreign entanglements deepen by the month, Chomsky's lucid analysis is a sobering reminder of the perils of imperial diplomacy. With a new foreword by Howard Zinn, author of A People's History of the United States, American Power and the New Mandarins is a renewed call for independent analysis of America's role in the world.
About the Author
Noam Chomsky is the Institute Professor and a professor of linguistics, emeritus, at the Massachusetts Institute of Technology. A world-renowned linguist and political activist, he is the author of numerous books, including "On Language: Chomsky s Classic Works "Language and Responsibility" and "Reflections on Language; "Understanding Power: The Indispensable Chomsky," edited by Peter R. Mitchell and John Schoeffel; "American Power and the New Mandarins"; "For Reasons of State"; "Problems of Knowledge and Freedom"; "Objectivity and Liberal Scholarship"; "Towards a New Cold War: U.S. Foreign Policy from Vietnam to Reagan"; "The Essential Chomsky," edited by Anthony Arnove; and "On Anarchism," and a co-author (with Ira Katznelson, R.C. Lewontin, David Montgomery, Laura Nader, Richard Ohmann, Ray Siever, Immanuel Wallerstein, and Howard Zinn) of "The Cold War and the University: Toward an Intellectual History of the Postwar Years" and (with Michel Foucault) of "The Chomsky-Foucault Debate," all published by The New Press. He lives in Lexington, Massachusetts.

"