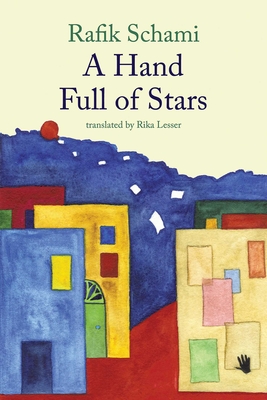 A Hand Full of Stars
Paperback

* Individual store prices may vary.
Description
Amid the turmoil of modern Damascus, one teenage boy finds his political voice in a message of rebellion that echoes throughout Syria and as far away as Western Europe. Inspired by his dearest friend, old Uncle Salim, he begins a journal to record his thoughts and impressions of family, friends, life at school, and his growing feelings for his girlfriend, Nadia. Soon the hidden diary becomes more than just a way to remember his daily adventures; on its pages he explores his frustration with the government injustices he witnesses. His courage and ingenuity finally find an outlet when he and his friends begin a subversive underground newspaper. Warmed by a fine sense of humor, this novel is at once a moving love story and a passionate testimony to the difficult and committed actions being taken by young people around the world.
Praise For A Hand Full of Stars…
In contemporary Damascus an Arab teenager writes in his journal about himself, his family, his friends, and his love while in the background, government terror mounts, coup follows coup, and he is drawn into secret and dangerous resistance. Normal life comes to include panzer tanks in the street; friends are tortured, but the narrator and a few companions find the courage to write and distribute an underground newspaper. Schami (a Syrian now living in Germany) is careful not to exploit the violence... With warmth and comedy, the journal entries focus on the characters on the boy's narrow street, where poverty smothers our dreams (his father forces him to leave school and work in his bakery), but there's a rich, vital, multicultural community. The narrator's family is Catholic, his best friend is Muslim, the barber is Armenian, the assistant comes from Persia, and the boy's beloved elderly mentor tells him stories from everywhere history, legend, and fable These stories persist, and we live in their midst. (Gr. 7-10)
Booklist

This unusual novel, written in the form of a diary, tells the story of four years in the life of a Damascene boy... This multifaceted work is at once a glimpse into a different culture, a plea for the right to free speech and a highly readable tale, as full of fun as it is of melancholy. (Ages 12-up) --Publishers Weekly

"This well-told coming-of-age story uses a journal format to recount the 14th through 18th years in the unnamed narrator's life in contemporary Syria... The translation lends an appealing accent to the voices, an exotic air to the settings... Emphasizing the power of the individual and of the written word, this book pushes the subject of censorship way beyond the usual YA problems with principals and graduation to matters of life and death." (Gr 7 Up)
Interlink Books, 9781566568401, 208pp.
Publication Date: December 28, 2012
About the Author
Rafik Schami was born in Damascus in 1946, came to Germany in 1971 and studied chemistry in Heidelberg. Today he is the most successful German-speaking Arabic writer. His novels have been translated into 21 languages and received numerous international awards.