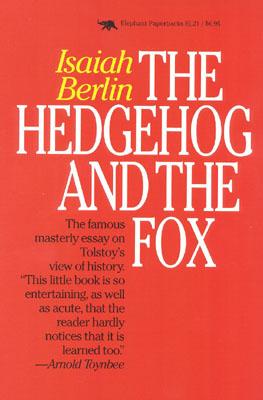 The Hedgehog and the Fox: An Essay on Tolstoy's View of History (Paperback)
An Essay on Tolstoy's View of History
Ivan R. Dee Publisher, 9781566630191, 96pp.
Publication Date: January 1, 1993
* Individual store prices may vary.
or
Not Currently Available for Direct Purchase
Description
"The fox knows many things, but the hedgehog knows one big thing." This fragment of verse by the Greek poet Archilochus describes the central thesis of Isaiah Berlin's masterly essay on Tolstoy, in which he underlines a fundamental distinction between those people (foxes) who are fascinated by the infinite variety of things and those (hedgehogs) who relate everything to a central, all embracing system. Tolstoy longed for a unitary vision, Sir Isaiah observes, but his marvelous perception of people, things, and the moments of history was so acute that he could not stop himself from writing as he saw, felt, and understood. He was by nature a fox who wanted to be a hedgehog. Since its first publication in 1953 Sir Isaiah's long essay has acquired the status of a small masterpiece. In its distillation of his profound knowledge of Russian thought and more general political philosophy, The Hedgehog and the Fox is a triumph of erudition and a superb entryway into an understanding of Tolstoy's work. "This little book is so entertaining, as well as acute, that the reader hardly notices that it is learned too." Arnold Toynbee.
About the Author
Sir Isaiah Berlin has spent the whole of his professional life at Oxford, where he is now a Fellow of All Souls College. His many books include Russian Thinkers, The Crooked Timber of Humanity, Karl Marx, and Against the Current: Essays in the History of Ideas.
Advertisement