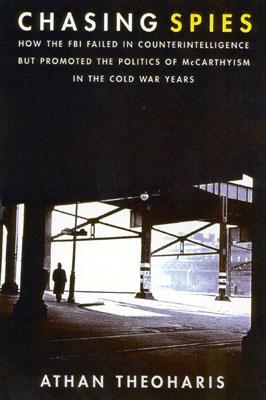 Chasing Spies (Hardcover)
How the FBI Failed in Counter-Intelligence But Promoted the Politics of McCarthyism in the Cold War Years
Ivan R. Dee Publisher, 9781566634205, 320pp.
Publication Date: January 21, 2002
* Individual store prices may vary.
Description
The long history of the Federal Bureau of Investigation under J. Edgar Hoover is studded with serious questions about the Bureau's professionalism and accountability. Revelations in the recent cases of Wen Ho Lee, Robert Hannsen, and Timothy McVeigh illustrate these misgivings. In Chasing Spies, Athan Theoharis, historian and perhaps the foremost authority on the FBI's record, raises urgent new uncertainties about the Bureau's behavior--and about the prospects for giving the FBI expanded powers of surveillance during the current national emergency. Mr. Theoharis here redefines the politics of the World War II and cold war eras, moving the debate beyond the narrow perspective triggered by the release of KGB records and intercepted Soviet consular reports (the Venona messages). The intriguing issue, he argues, is not the effectiveness of Soviet espionage activities as supported by the new evidence. Nor is it the long-standing charges of "softness toward communism" in the Roosevelt and Truman administrations. The real issue, he says, is the failure of the FBI to apprehend and convict Soviet agents. Based on meticulous research in FBI files, Chasing Spies uncovers the FBI's role in the most important espionage cases of the cold war years. The book shows how secrecy immunized FBI operations from critical scrutiny and enabled FBI officials to mask their counterintelligence failures while promoting a politics of McCarthyism.
About the Author
Athan Theoharis is professor of history at Marquette University. His many books include The Boss, From the Secret Files of J. Edgar Hoover, Spying on Americans, Beyond the Hiss Case, Seeds of Repression, and The Yalta Myths. He lives in Milwaukee, Wisconsin.
or
Not Currently Available for Direct Purchase