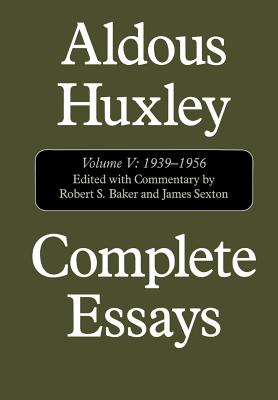 Complete Essays (Paperback)
Ivan R. Dee Publisher, 9781566634410, 476pp.
Publication Date: July 1, 2002
Description
In this fifth of six volumes in a major publishing enterprise, Huxley continues to explore the role of science and technology in modern culture, and seeks a final level of foundational Truth that might provide the basis for his growing interest in religious mysticism. His philosophy of history took its final form in this period. At their best, Huxley's essays stand among the finest examples of the genre in modern literature. "A remarkable publishing event...beautifully produced and authoritatively edited." Jeffrey Hart. "He writes with an easy assurance and a command of classical and modern cross-references," Christopher Hitchens, Los Angeles Times. "There is much to enjoy in these volumes...they are important as a document of his times, and of a window on to a stage in the evolution of his mind." Economist. "You have to marvel at the range of Huxley s] interests and the intelligence with which he explores them....What we experience in this high journalism is a man of intelligence, sensibility, and formidable erudition engaging his era and struggling for equilibrium while sharing the widespread perception that something ghastly has happened to European civilization...." Washington Times.
About the Author
Aldous Huxley (1894 1963) was one of the most important novelists of the twentieth century. Robert S. Baker is professor of literature at the University of Wisconsin, Madison, and author of The Dark Historic Page and Aldous Huxley s Brave New World. James Sexton teaches English at Camosun College in British Columbia."
Advertisement